An enduring heritage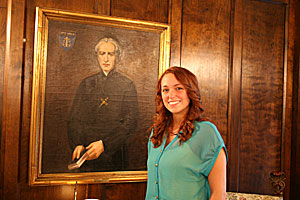 Maggie Galvin of North Royalton, Ohio, stands next to a
portrait of Blessed Basil Anthony Moreau in Le Mans Hall.Not many students can say they visited the place where the inspiration for their college was born. Maggie Galvin '13 can. During her sophomore year Maggie, studied abroad in Dijon, France. As part of the program she toured the motherhouse of the Congregation of the Sisters of the Holy Cross in Le Mans—the very convent in which Father Basil Anthony Moreau, founder of the Congregation of the Holy Cross first discussed what would eventually become Saint Mary's College.
"When we mentioned Saint Mary's to the nuns living in the convent, they knew exactly what we were talking about," recalls Maggie. "We were halfway across the world, and we still found people who were connected to the college."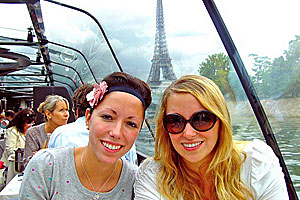 Maggie (right) enjoys a day in Paris with sister Annie,
a 2011 Saint Mary's alumna. Their father convinced them
to choose Saint Mary's, and they're happy for it.That connection was just one of many meaningful experiences Maggie had in France. An earlier trip with the European Summer Study Program inspired Maggie to become a French major. "My four months in France helped me find myself," she says. "I returned to Saint Mary's with a better sense of what I wanted to accomplish in life." She hopes to work in France in the field of international business after she graduates.
She's getting a firm foundation. "I am challenged by my major every day," she says. "And I'm thankful for this. The challenges presented to me at Saint Mary's have helped to shape my command of the French language and will only continue throughout my final year and a half."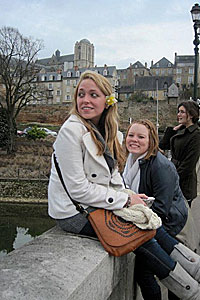 Maggie, foreground, junior Caitlyn
Holman, middle, and senior
Maggie Karcher, right, gaze over
a bridge on the Sarthe River in France. Balancing her major and three minors in business administration, public relations, and European history, Maggie still manages to maintain a 3.43 gpa and find time for numerous activities. Perhaps the most meaningful has been working with the Student Diversity Board. She has helped plan the Diverse Students' Leadership Conference for the past two years. "The connections I made with colleges in the South Bend and Mishawaka communities have been valuable," she says. "I plan to make the DSLC better by utilizing them."
Her time at Saint Mary's has made Maggie devoted to the college. "I love that the two words Saint Mary's can mean something different for each student." But, she insists, students and alumnae can agree that Saint Mary's women share a lifelong bond. "Our alums are all over the world, and having that connection no matter where you are cannot be overlooked," she says. "We share a strong bond that is truly unique."