Be more than you ever thought possible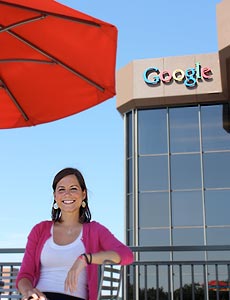 Today, Mary Elizabeth Ulliman '10 has a great job with Google.

Before that, she was a business administration major at Saint Mary's College.

Before that, she was a student from a state university, trying to find the right fit in a college. It turned out to be Saint Mary's.
"Saint Mary's helped me grow into the person I am and continues to shape me into the person I am meant to be."
So how does a student prepare to take a job with one of the most recognizable, cutting-edge companies in the world? Outside-the-classroom learning, rigorous academics, and community support. "I felt fully prepared to immerse myself in the world of Google after my time at Saint Mary's," Mary Elizabeth says. "The business administration program allowed me to dip my toes in all aspects of business. Plus, my study abroad experience in Spain helped me develop confidence and independence, and my internships gave me real-world experience."
"The community at Saint Mary's allows students to truly grow into themselves, and gives them an extended 'family' network for the rest of their lives," she says.
An account manager at Google, Mary Elizabeth helps education and nonprofit organizations with advertising on Google Search, Google Display Network, and YouTube among others. "I love connecting with my clients," she says. "It is so gratifying to work with a business from the ground up, helping it grow into a booming success. It has become clear to me that the work I do can have a profound effect on other people, their businesses, and, indirectly, their livelihood."
Google's nontraditional culture is perfect for her. "I love the transparency within the company, its 'Don't be evil' slogan, and the way it values each employee," she says. "The emphasis on and support of diversity and out-of-the-box thinking is incredible."
And she couldn't be happier that Saint Mary's got her ready for Google and beyond. "Saint Mary's teaches you to be self-sufficient and self-motivated," says Mary Elizabeth. "The opportunities are there. You have to go out yourself and take the initiative to get that experience."