Life in McCandless Hall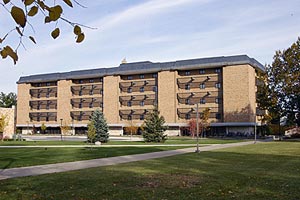 I am so thankful that I chose to live in McCandless Hall for my first year at Saint Mary's. I love the living space and have made a lot of really great friends!
McCandless is an all-freshman dorm, so it's been very easy to connect to people who are going through the same college adjustments as me. It's also been very easy to meet a lot of the girls in my class and make plenty of friends!
McCandless has an excellent location. It is only a 15-second walk to both Angela Athletic Facility and the dining hall. And it's only a five-minute walk to Spes Unica Hall and Regina Hall, which are the farthest buildings from McCandless.
The rooms are all good sizes and the closets are very big. Each room has a sink, which comes in handy. Each room also has a separate little room—called a study carrel—across the hall to study in. I have really enjoyed having a quiet place to escape to and study when my roommate is sleeping or watching a movie.
Scenes from McCandless Hall
This product uses the Flickr API but is not endorsed or certified by Flickr.
The building is very clean. Our laundry room just got new floors and was recently painted. The showers are also nice. We are very fortunate to have such a wonderful cleaning staff, Angela and Maria. They clean the bathrooms and showers and are extremely sweet! They treat us like family.
I have one caution for girls who like to go to bed early: McCandless is known to be the loudest dorm, so just be prepared. My friends and I have found earplugs and sleeping masks to be very useful. But most of the time, it's great to be in such a fun environment with other freshmen!