A woman's college? Absolutely
They laugh at the photographs of them dressed alike as children. But don't call Clarisa "Cecily's shadow." The Medina girls stand on their own.
"I'm my own person and I chose to come Saint Mary's on my own, not because of my sister."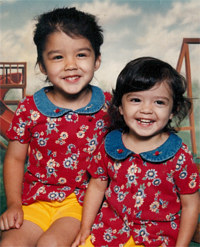 Cecily and Clarisa in a childhood
photograph.Clarisa is a first-year student. Cecily is a sophomore. Clarisa could have gone to college virtually anywhere. As a Gates Millennium Scholar, she received a scholarship to attend the school of her choosing. The elite and highly competitive national program is funded by a $1.6 billion grant from the Bill & Melinda Gates Foundation.
"I knew that if I wanted to be successful in the classroom and feel empowered as a woman then I needed to come to Saint Mary's College."
It's safe to say Clarisa learned about Saint Mary's because Cecily was enrolled here. On campus to visit Cecily last year, their dad helped Clarisa see what he saw at the College.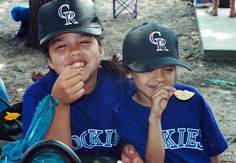 Cecily and Clarisa have been on the diamond
together for years and hope to play softball
at Saint Mary's in the spring."I've been very involved in Girl Scouts and the motto is 'courage, confidence, and character to make the world a better place.' My dad kept telling me if you still have those beliefs, then this is the school you need to go to," she recalls.
Clarisa plans to major in global studies and political science. Her long-term dream is to be a U.S. Ambassador. "At Saint Mary's, they want us to feel confident to make it in male-dominated fields like engineering, math, and the sciences, but also to be leaders on the political scene and the global world."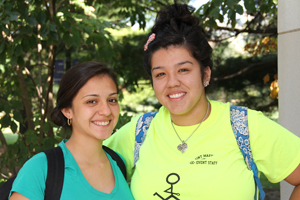 Clarisa and Cecily outside of Regina Hall, where they
both live.Cecily, meanwhile, is in the Dual Degree Program in Engineering. She'll earn a degree in chemistry at Saint Mary's and spend a fifth year at the University of Notre Dame to finish a degree in engineering. She was accepted to several universities with engineering programs but chose this one because she could attend a women's college. Having Saint Mary's as her home base makes all the difference to her.
"At Notre Dame my lectures have 200 people in them and more than 50 people in my learning center. My Calculus 3 class here has like 15 people. There is no way I could concentrate on the things I want to do and learn to love it like I have here," Cecily says. "I feel like the faculty here really know who I am."
The young women have some common interests. They hope to play on the College's softball team in the spring. This fall Clarisa is on the cross country team.
They both miss their close-knit family in San Antonio, but mom and dad don't seem that far away.
"Our parents are really involved. They actually won't leave us alone," Cecily quips with a smile.
That strong parental support has produced two independent Belles.
Clarisa recalls, "Our mom has always said, if you're going to do something, you need to do it by yourself and then we'll guide you to be a success, but first you need to apply yourself."
The same could be said about the Saint Mary's experience.