Be more than you ever thought possible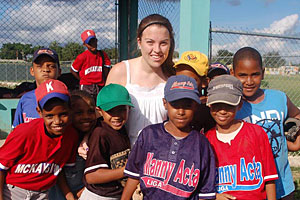 Megan Golden of Concord, Ohio, visited the ImpACTA
Kids Foundation in the Dominican Republic last winter. Rising junior Megan Golden isn't the kind of person who waits around for opportunities to come to her. She paves her own paths to where she wants to go, whether it's the Cleveland Indians' press box, volunteering for Major League Baseball in the Dominican Republic, or immersing herself in University of Notre Dame sports as a newspaper writer and team manager.
"You never know what an opportunity is going to give you or where it's going to take you," she says. So she's ready for anything.
Obviously, Megan loves sports. And this lifelong passion inspired her to create her own sports-related major—Sports, Culture, and Society—through Saint Mary's student-designed major (SDM), which allows select students to create challenging programs of study. With her advisor, anthropology Assistant Professor Gabriel Torres, Megan customized a program that combines her interests in anthropology, sociology, communication studies, and economics.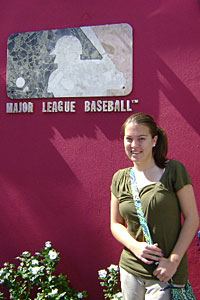 Megan's experiences with Major
League Baseball have been a dream
come true as a lifelong baseball fan.Megan's ultimate goal is a career in sports media, and she's laying the groundwork. She covers sports for the Observer, a newspaper that serves Notre Dame and Saint Mary's. As a manager with the Notre Dame Student Managers Organization, she's worked with the football program, men's basketball, and women's basketball. Recently, she was selected as a student manager for women's basketball for the remainder of her college career.
And Megan already has an internship under her belt. Last summer she interned with the Cleveland Indians, setting up the press box prior to each home game, writing for minor league affiliates, and recording all post-game interviews in the locker room. "I looked at the website for the Cleveland Indians and saw they had internship opportunities," she explains. "I sent in my resume on a whim—I didn't expect to hear back, but I wanted to at least try." She received an interview request two hours later.
"It was definitely the best three months of my life," says Megan. "It was a dream come true to work with the team I have grown up cheering for. I went from sitting in basically the nosebleed section to watching the game in the dugout with the rest of the team." She was invited back the next summer, and will work her third internship with the team in the summer of 2013.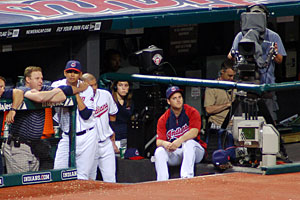 Megan watches from the Cleveland Indians' dugout
during a summer communications internship.Major League Baseball offered Megan quite a different experience in January when she spent part of her winter vacation in the Dominican Republic volunteering for the organization. "I contacted MLB in November asking if they had any volunteer work," says Megan. "They responded the next morning and asked me to come in January. To prepare, I watched interviews of baseball players from the Dominican Republic on YouTube to learn the different word pronunciations and speaking patterns of the culture. Even though I've taken Spanish in high school and college, I wanted to make sure I understood the dialect in the Dominican Republic."
While she was there, Megan visited an orphanage for girls and brought them games and supplies to make bracelets. She also went to a baseball clinic held by the ImpACTA Kids Foundation for boys ages seven to seventeen. The ImpACTA Kids Foundation was founded by Cleveland Indians manager, Manny Acta, giving Megan one more reason to love the Indians and Acta.
Megan still has two more years to go before graduation, and, no doubt, those years will be filled with new and unexpected opportunities.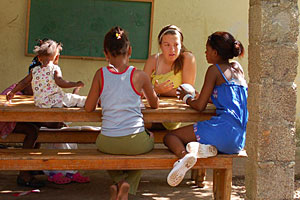 Megan and girls at an orphanage for girls in Boca Chica,
Dominican Republic."By nature I am self-motivated and an independent thinker, but Saint Mary's further fostered this in me by encouraging me to pursue my passions through an unconventional major and Spanish minor," she says. "I have definitely received attention and recognition that I would not have gotten at a larger school. I'm glad I chose Saint Mary's."