Be engaged, be guided, be heard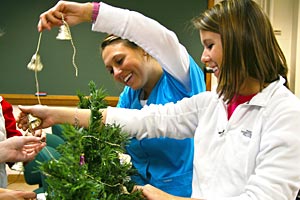 Nursing juniors Christina Barra, left, and Abby Coombs
decorate trees for oncology patients at Saint Joseph
Regional Medical Center in Mishawaka.Medical care is important. But Saint Mary's nursing students also understand the healing power of holiday cheer.
So in the midst of finals, clinicals, holiday planning, and other seasonal demands, the student nurses found time to spread joy to hospital oncology patients and families of medically fragile children.
On December 5, nursing juniors on their clinical rotation delivered miniature Christmas trees to patient rooms on the oncology floor at Saint Joseph Regional Medical Center in Mishawaka. The students had decorated four of the 32 trees beforehand; other nurses had decorated the rest.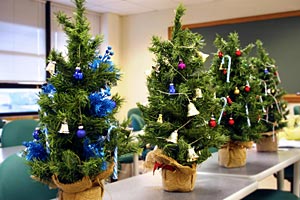 "Nurses understand that it's difficult for families and their loved ones to be hospitalized during significant holidays," says nursing Associate Professor Annette Peacock-Johnson, who supervises the oncology clinical. "Two years ago, one of the Saint Joseph nurses conceived the idea of creating holiday decorations that patients take home at discharge. It's a way to lift the spirits of the patient and family members."
Nursing junior Allison Kincaid says the trees were a perfect way to end her oncology clinical. "After being there for six weeks and trying my best to provide medical care for them, it was great to add a bit more to their hospital stay. It was wonderful seeing all the Christmas trees really light up the floor."

Brittney Sego, 12, and her brother, Andy, 6, make crafts
with nursing juniors Kari Keller, standing, and
Elizabeth Mueller at a party on December 8.On December 8, the college's Student Nursing Association threw a Christmas party for three of the 26 families who participated in the Pediatric Respite Program. In the program, students provide home care to children with special needs. Oftentimes, the student visits are the only time parents are able to take a break from caring for the children.
"We wouldn't make it as far as we do without these students," says Deb Sego of South Bend, as her two children made crafts at the party. "They've been aunts, sisters, best friends. They're incredible."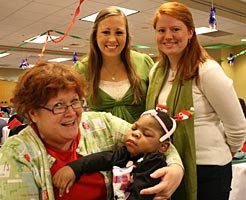 Nursing Associate Professor Jayne Kendle holds
2-year-old Johnay Lipsey of South Bend at the
Christmas party for pediatric respite patients
on Dec. 8. Juniors Karah Susnak, standing left,
and Colleen McAleer took care of Johnay during
fall semester.Sego and her children—12-year-old Brittney and 6-year-old Andy—have participated in the program for five years. Brittney is recovering from her 19th or 20th tracheal surgery. In 2009, a thyroidectomy damaged her vocal cords and significantly impaired her breathing. She's had a tracheal tube inserted into to help her breathe, but other surgeries to help the problems have not been successful. She also has type 1 diabetes.
Andy was born at 24 weeks gestation. He suffers from cerebral palsy, non-partial bili duct syndrome, and mild chronic lung disease among other health complications.
The children love visits from the nursing students. Brittney, who can't speak above a whisper, wrote about her feelings for the students: "They are so fun! They're like my big sisters! I wish they could come all the time!"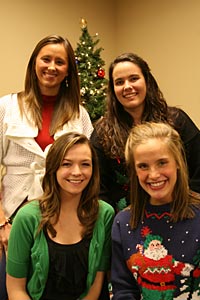 Officers for the Student Nursing
Association are, clockwise from top left,
President Julia Humphrey, Vice President
Colleen Hughes, Secretary Remi White,
and Treasurer Maddie Stoll.Nursing Associate Professor Jayne Kendle founded the respite program in 1997 in conjunction with her class Child Health Nursing. "The life of a medically fragile child doesn't stop at discharge from the hospital," Kendle says. "I wanted them to understand what these families go through at home." Students are required to make home visits for at least 16 hours during the semester.
Parents say the free time changes their lives. And the nursing students adore the program. "This experience was so much more than just gaining new nursing skills. I was able to experience the love and joy of a family that's going through great challenges," says Elizabeth Mueller '12, who worked with the Segos this semester. "When I first began the program, I was worried about the responsibility. But I became more comfortable once I got to know the children and their situation.
"This program has made me a better person."