Life in Opus Hall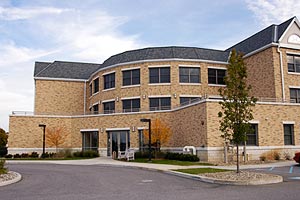 Opus Hall was the perfect option for my senior year. I get to live in an apartment without having to go off campus. The apartments have all the features of an off-campus apartment: microwave, full-sized refrigerator, dishwasher, oven, and even furniture. It's on the far end of campus, so it feels more private than the other residence halls, but is still within walking distance to all my classes.
Only seniors live in Opus, so there is a more mature atmosphere. We are all going through similar things—applying to graduate school, finding jobs, completing our majors—so we are respectful of our neighbors' needs for a quieter study area.
My favorite aspect of Opus is the extra living space. Each resident gets her own bedroom. In addition, each apartment has a kitchen/living room area, closets, and one bathroom for every two roommates. There is so much storage space that I actually had to give away all my storage containers since I no longer needed them.
There are definite perks to living in Opus. We have our own parking lot right outside our door. I no longer have to lug my groceries halfway across campus! We don't have to follow certain rules, such as parietals. Opus does have RAs (residence hall assistants), but they have less of a supervisory role than RAs in other residence halls. Students in Opus are treated like adults, so the RAs keep things running smoothly and offer help if needed.
I feel Opus is the perfect transition from living at school to the real world. I have my independence and have gotten valuable practice in cooking for myself, caring for an apartment, and managing my time. Yet I didn't have to worry about landlords or strange neighbors. I love having all of the benefits of living off-campus without having to leave Saint Mary's College.