Discover who you're meant to be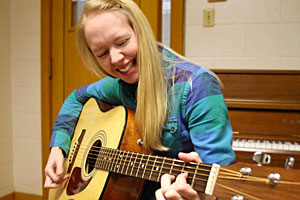 Peggy Dobihal, a senior from Saint Paul, Minnesota, works on
her favorite homework assignment—guitar practice.
[Zara Osterman photo.]As senior Peggy Dobihal moves her fingers over the six strings of her guitar, it's easy to draw a metaphor between her music and her time at Saint Mary's. Just as she blends notes into a song, she has brought together meaningful experiences for an education that has shaped every part of her life.
First, there's her accounting major and success in it. With a 3.99 gpa, Peggy has made the Dean's List every semester and has collected numerous awards: Business and Economic Department Freshman Academic Achievement Award, Bridget Anderson KPMG Award, and the Deloitte Award.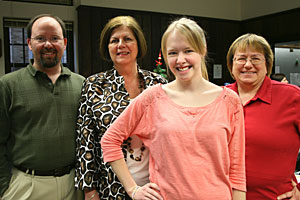 Peggy has worked for the Registrar's Office since her
freshman year and considers the staff her second family.
"They have taught me to be the change you want to see
and to do the little things with great love."
[Zara Osterman photo.]Her strong academic background helped Peggy find an internship and then a job with PricewaterhouseCoopers in her hometown of Minneapolis. "After graduation, I will take the certified public accountant (CPA) exam. Then in October, I plan to start as a full-time tax associate with PwC. I plan to take one year at a time and see how I like public accounting."
If her career is anything like her studies, Peggy will enjoy business. "In the second semester of my first year I took an accounting class and just loved it," she says. "I like to be in control and I like math and working with numbers."
Although her aptitude for math and numbers certainly helped Peggy in her coursework, she credits much of her academic success to her professors. "Not only are they exceptional professors, they truly care about you as a person," she says.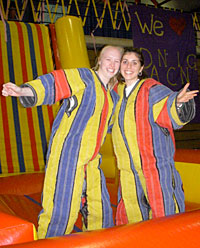 Peggy and senior Antonia Infante
have fun at Dance Marathon,
a fund-raising event for Riley's
Hospital for Children in Indianapolis.Another note in her college song was her experience studying abroad in Rome. "I was so far away from anything I knew and forced to adapt to another culture. I did things that I never thought I could do," she says. "The study abroad program was life-changing for me."
And, finally, there's her beloved guitar. "I have always loved music, and taking guitar lessons at Saint Mary's has given me a chance to indulge in that passion. Guitar has been my escape from the pressures and worries of school and life." She started lessons her sophomore year and enjoys playing the guitar with her family, a close-knit bunch that loves to gather at the family cabin.
Coming from such a close family, Peggy was especially happy to discover what feels like a second family at Saint Mary's. "I love the small community feeling here," Peggy says. "When I took a campus tour during my junior year of high school, I knew right away that Saint Mary's would be a place I could call home."