Be engaged, be guided, be heard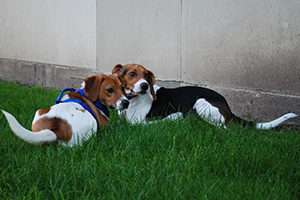 Daisy and Kelli enjoy the pet play area of
Regina South.Several new residents on campus this fall will be the source of giving pause… or perhaps paws. The Fall 2012 semester kicks off with the newly revamped Regina South residence hall, which has been renovated to provide a new on-campus living area for members of the senior class and their furry friends. Residents of Regina South have the opportunity to have a four-legged companion along for the journey of their senior year at Saint Mary's, which is the only regional college or university to allow pets in residence halls.
Click to see Move-In Day photos and more photos of Regina pets.
Regina South is an exclusive senior class living community where residents are allowed to live with one small animal less than 30 pounds while following the visitation policy of Opus Hall. The south courtyard has been dedicated as a pet play area, and each floor will have its own kitchenette to foster a sense of independent living while remaining an integral part of the Saint Mary's community.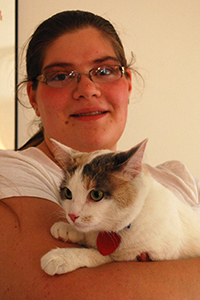 Mara Scott and her cat Oonaugh
wait to meet the vet.English writing major Mara Scott '13 is ready to embrace the opportunity to share her senior year with her cat. "I'm extremely excited to have my cat Oonaugh here on campus," she said. "It will give a really good sense to students of how they can handle a pet, if they can handle a pet, in the real world. Here in your senior year, having your senior comprehensive, is really similar to a real life working situation. I think this is going to be a great thing."
In addition to the school-pet responsibility balance, many are looking forward to the stress-reducing benefits of having their pets with them. "Kelli is a good de-stressor," English major Meghan O'Rourke '13 said. "She's good to go run around with and play with. I just want to take her everywhere. She is the greatest conversation piece."
Meghan adds that not only will having Kelli on campus be a learning opportunity for her, but also a learning experience for all students living in Regina South. "It's a good transition. It is going be helpful for her to learn and for me to learn and everyone else too. You're going to have to learn to live with neighbors and things. It's a great personal lesson in responsibility."