Discover who you're meant to be: Carolynn Prisco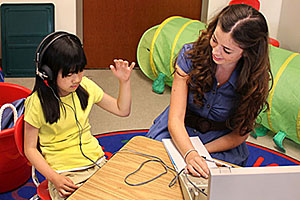 Carolynn Prisco '12, a communicative disorders major,
tests a child's hearing in the College's hearing lab.Carolynn Prisco wasn't sure what to do. She'd come to Saint Mary's to major in biology to eventually become a pediatrician. But after her first semester, she knew that wasn't the right path. And she had no backup plan.
U.S. News & World Report has consistently listed speech-language pathology as one of its
top 25 best jobs.
"The only thing I was sure of was that I wanted to work with children," Carolynn recalls. "I asked the girls on my floor about their majors and the classes they were taking. One said she was taking Introduction to Communicative Disorders and that she wanted to become a speech-language pathologist, something I had never heard of. Then she explained the populations she would work with—which included children with special needs—and I was instantly intrigued."
In high school Carolynn had worked with a student with special needs and enjoyed it. However, she wasn't interested in becoming a special education teacher and didn't know of other careers working with people with special needs until her floor mate mentioned the communicative disorders course.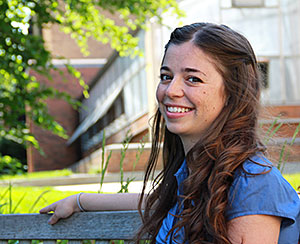 So Carolynn enrolled in Introduction to Communicative Disorders. "Within the first week I fell in love with the major and never looked back," she says.
Carolynn graduated from Saint Mary's in May 2012 and less than three weeks later she enrolled in the graduate program in communication disorders and sciences at Eastern Illinois University. She'll become a certified speech-language pathologist (SLP), helping children and adults overcome a range of disabilities related to speech, hearing, swallowing, and other areas. Eventually she would like to open her own practice to provide services to children from low-income families.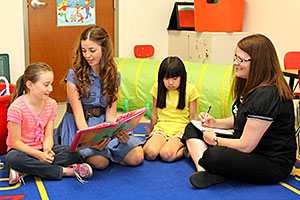 Professor Susan Latham observes Carolynn reading
to a child. Carolynn says the Saint Mary's program prepared her for graduate school and beyond. "The program is small, so it allows for a lot of hands-on experiences starting right from the first year," she says. "You not only learn about your profession, but you also have to apply the knowledge and perform the tasks."
During her time at Saint Mary's Carolynn worked with children who had Down syndrome, articulation disorders, autism, ADD/ADHD, and other conditions.
Carolynn attributes much of her confidence and ability to the professors who taught her. "The passion and enthusiasm of Professor Susan Latham reeled me in after the content hooked me," she says. "Professor Latham and Professor Rhonda Tomenko are extremely knowledgeable, and they are compassionate, understanding, and challenging, always pushing us to the limit."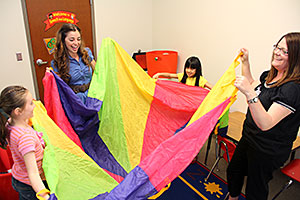 Carolynn, Professor Latham, and the children play
with a parachute as part of an SLP exercise. Carolynn can't wait to embark on her career. "I love the fact that the job is ever-changing, requiring me to learn a new skill or gain knowledge every day. I need to be friendly, flexible, quick on my feet, caring, and patient. I enjoy challenges and cannot wait to use my passion and skills to help others."