Life in Regina Hall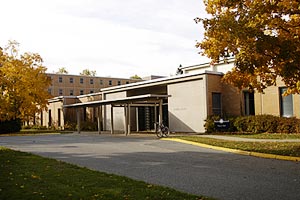 Regina Hall is fit for a queen. At least, so claims our royal nickname, the Regina Queens.
Our residence hall has the perfect combination of modern amenities and character from the 1960s, when Regina was built. We love the large windows that let in lots of sunshine. And, like royalty, we even have our own courtyard where residents can relax and enjoy the outdoors.
Inside, Regina boasts a lounge with a piano, and students can be found punching out tunes and relaxing with friends. In the winter, residents decorate the lounge for the holidays. We bake cookies and string up garland. We hang candy canes and ornaments. We even have our own Christmas tree, which is housed on the first floor. The lit-up tree stands outside Regina Chapel to be seen by all before our weekly Sunday night mass. As the holidays come near, carolers perform for college's renowned Madrigal Dinners, and the merry music echoes through the stairwells.
Scenes from Regina Hall
This product uses the Flickr API but is not endorsed or certified by Flickr.
In addition to its quaint traditions, Regina provides services that students expect these days. Our residence hall has free Wi-Fi, an air-conditioned study lounge, a computer lab, and a movie-viewing room. Regina houses the Department of Modern Languages and its classrooms, and it's especially easy for us to access the foreign language lab. Our basement has pool tables and room to relax. And Regina is home to the college's dance studio and theatre classroom.
But the main thing that makes Regina unique is its community. Since Regina has small floors (approximately 20 rooms per level, split among singles, doubles and quads), residents all know each other and become close. We do our laundry together, work out together in the basement, and gather for movie nights and late night talks. We make pancakes on Saturday mornings and attend Mass together on Sunday nights.
All in all, Regina gives the royal treatment to its residents. It's second to none.