Learn from outstanding scholars and committed mentors
From proving the square root of two is irrational to converging sequences to infinity and beyond - mathematics professor Joanne Snow has it covered.
Snow's love of math has been a lifelong affair. A self-proclaimed "nerdy kid," she grew up with a thirst for knowledge that was only fostered by her parents.
"Education was so important to my parents, especially my dad," said Snow. "When I needed books for school, he would go on his lunch hour and haul a bunch of books for me from the main library in Baltimore."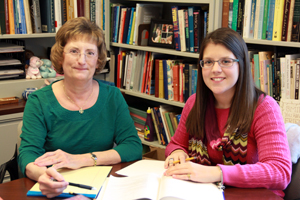 Professor Joanne Snow and Maureen Parsons '13 work
through a problem together.That inclination toward education did not mean that the road would be easy. A graduate of an all-girls high school in Maryland, her school did not offer calculus. Rather than accepting that, a teacher from her school drove Snow and a handful of other girls to an all-boys high school nearby.
Snow always wanted to teach. She grew up playing school with other kids and knew she always wanted to teach at a college. Coupled with her love of math, Saint Mary's turned out to be a perfect fit in many ways.
"I love Professor Colleen Hoover's line, 'Embrace your inner nerd.' I feel like I really need to convey my excitement for math. Students here are really so lucky to have so many women teachers in math. I had nuns in high school. In college, I had one female math teacher, and she was a nun. In grad school, it was all male professors. It is important for me to see more women getting out there and doing it."
Despite all of those perceived and actual hurdles of becoming a woman fluent in the language of mathematics, Snow stayed the course and earned both her master's and PhD from the University of Notre Dame.
She is dedicated to assisting students overcome many of those same perceived obstacles of being successful women in math and beyond. When she is not leading a class, Snow can often be found in her office working one-on-one with a student.
"I would rather take home all of the work I didn't get done during the day if I can help a student feel better about her math life. Obviously you want them to know some mathematical content. But I want them to feel proud of themselves that they have accomplished something and that they have grown. They have persisted. They have developed some skills that maybe they won't be computing gradients for the rest of their life or finding whether the sequence converges uniformly, but that they will have developed a skill set and some confidence that 'I can face anything.'"
While she holds her students to a high level of expectation and attention to detail, it is those lessons that have had the most long-standing impression.
"Real Analysis was one of the most challenging classes I took as a student," said Meghan Honerlaw Tooman '07. After continuing on to graduate school and earning a master's degree in statistics, Tooman credits Snow for her dedication to her students and their understanding to her success in graduate school.
"It pushed the limits of my knowledge and tested my resolve to figure out the solutions."
Renee Wolbert '10 can also relate to Tooman's sentiments.
"I don't write proofs anymore. I don't do math problems daily. In fact, most people would think I don't really use the math portion of my degree much at all in my career," said Wolbert, who is an analyst for an information technology consulting company in Chicago.
"Professor Snow's instructions before an exam would always include 'Take a deep breath - this is your time to show off what you know.' Between the critical thinking skills, the hard work, and the life lessons of 'showing off' what I've learned, I use my math skills every day."