Learn from outstanding scholars: Professor Steven Broad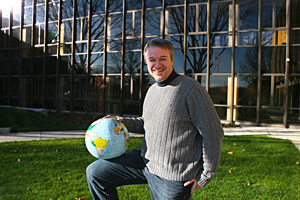 As a numbers guy, you might think mathematics Professor Steven Broad would be a man of few words. He can be. Take a look at a haiku he wrote summing up his dissertation.
Differential Geometry
Singularly round
somewhere spherical, elsewhere
principally free
Of course, scholastic research is much more complicated than this poem suggests, and Broad's research excellence earned him a fellowship with the Fulbright Scholars Program, one of the most prestigious academic awards in the world. In the summer of 2011, Broad served as a Fulbright scholar to São Paulo, Brazil. Through this grant, he conducted research in his specialty, classical dynamical systems and differential geometry, made valuable research connections, and taught a seminar on the subject at the Instituto de Matemática e Estatística of the Universidade de São Paulo.
"Before I left, I started doing the sorts of things one does to become better at speaking a language, like listening to Portuguese radio and reading a lot of Portuguese," he says. "I tried to do the things I could to become more conversant; however, one of the unique aspects of my work there was to speak English to students and faculty so that they could practice. But when you live someplace you can't get around without speaking that language."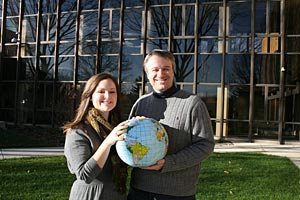 Saint Mary's College alumna Rachael Chesley '11
says Professor Broad encouraged her to apply for a
Fulbright fellowship, which she was ultimately awarded.
She left in January 2012 to teach in Malaysia. His experience was filled with unexpected challenges. "The University of São Paulo is a huge metropolitan university, a place the size of Purdue University," he says, comparing it to the relatively small campus at Saint Mary's. "Besides the size, to be honest, I found myself uncomfortable being in a mixed classroom after being a couple years at Saint Mary's College. I'm used to being the only male in the room, so it just took some getting used to."
Broad brings his rich Fulbright experiences back to the Saint Mary's. He's now an even greater proponent for students studying abroad or finding other opportunities to learn outside the United States. He left Brazil with the following impressions: "Being a non-native Portuguese speaker, I had an inside view on how it is to be a non-native English speaker here," he says. "I also was able to really get a feel for the culture in Brazil and fell in love with the country. I got to see Brazil beyond the tourist brochures and really got to know the people. They are very friendly, very warm, hard-working, and open."
—Anabel Castaneda '12