Historical event magnifies study abroad experience
The Global Education Program is popular at Saint Mary's and for good reason. Study abroad provides exposure to other languages and cultures, opportunities to learn new customs in a total-immersion experience, and transforms our students into global citizens. And when historic events like the naming of a new pope occur, the study abroad experience is magnified.
In the right place, at the right time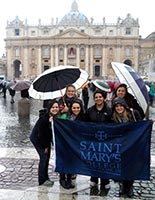 Sophomores (from left)
Nora Clougherty, Lauren
Osmanski, Erin Mishu, Karla
Moreno, Alexandria Charter,
and Victoria Wilbraham show
their love for Saint Mary's
in front of Saint Peter's
Basilica.
For several days in March, Catholics from around the world gathered at Saint Peter's Basilica in Vatican City to await the election of a new pope, providing Saint Mary's students studying in Rome with a unique experience. "Just seeing the different types of people from so many different places in the world coming to Rome to support the conclave and the new pope was amazing," says Lauren Osmanski '15.
As Catholics everywhere waited for the chimney to emit white smoke, signaling the selection of a new pope, Victoria Wilbraham '15 was in front of Saint Peter's. "Watching the white smoke rise was by far one of my greatest moments from this trip. For as long as I live, I will never forget that moment and never forget how blessed I was to be there," says Victoria.
Experiential learning at its best
College is about learning, yes, but learning is more than what you glean from lectures and textbooks. Studying in a foreign country provides a learning experience unlike any you'll find in the classroom. "It gives you a chance to discover things about yourself and things about the world that you would never be able to unless you are put out of your comfort zone a bit," says Alexandria Charter '15. Study abroad students aren't left to wander alone in a foreign country; Saint Mary's has decades of experience sending students to learn in another land. "The program is centered around the students and making sure each student gets the most out of their experience. It is a very personal and enriching program," says Lauren.
The activities available to study abroad students can be transformational. Imagine holding a koala in Australia, studying the diverse biology of Ecuador, practicing taekwondo in Korea, or exploring social justice issues in South Africa. "[Studying abroad] gives you the opportunity to have a different perspective on the world and exposes you to so many incredible experiences that ultimately change you for the better," says Anna Ulliman '15.
International experience for your future
Open to all majors, study abroad programs can fit into your major or an interest outside your major. And, there are summer and spring break programs in addition to full semesters abroad. In today's shrinking global community, international experience gained through time abroad proves invaluable when searching for a job or applying to graduate programs. No matter what your major is, or what career you choose, you will need to know how to relate to people from cultures outside of your own, and studying abroad is great practical experience that will impress in an interview.
Living and learning in another country provides our students with the opportunity to practice communicating with people from all over the world. Of course, they also make some great memories: strolling down the block for a gelato with friends; riding a camel at the edge of the Moroccan desert; bending over backwards to kiss the Blarney Stone.
"There are moments when you walk down the street and it hits you, and I find myself taken aback and I think to myself, 'Wait, I'm in Rome,'" says Nora Clougherty '15.
These students were fortunate enough to witness a historical event while studying in Rome, and they'll take these memories, experiences, and knowledge with them wherever they travel next.