Women's leadership program brings global visitors to campus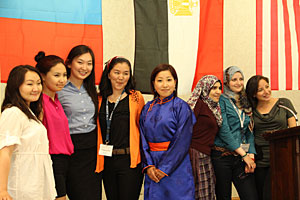 Participants of an international women's leadership
program at Saint Mary's gather in front of the flags of their
countries. Funded by a grant from the U.S. Department
of State, the program hosted students from five countries.
[Zara Osterman photo]The Libyan Revolution ended less than a year ago. And, Sarah, a 19-year-old Libyan college student, says the events she witnessed have both broken and steeled her heart—neighbors killed outside their homes, mothers crying over their dead sons, men and women with severe injuries struggling in their daily lives.
"Every Libyan citizen knows someone who died," she says. "We value their sacrifice and the times that we witnessed war because they brought us together. We were united. My neighbor felt like my brother, and I would die for him. So now we are responsible for the people whose family members died and those who lost their limbs and were injured. We must do anything we can to help them."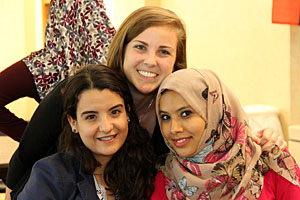 Clockwise from top: Kaitlyn Rabach, a sophomore at
Saint Mary's; Sarah, a 19-year-old student from Libya;
and Salwa, a 22-year-old graduate student from Tunisia
[Zara Osterman photo] For her part, Sarah, a Tripoli University student studying computer science—a major that didn't even exist three years ago—is determined to help democracy flourish in Libya after decades of dictatorship. She is determined to become a leader in some capacity. And that's what brought her to Saint Mary's College in June.
A grant from the U.S. Department of State offered the opportunity for Sarah and 19 other undergraduate women from five countries—Egypt, Libya, Tunisia, Mongolia, and Burma (Myanmar)—to participate in a five-week immersion program focusing on women's leadership. The students arrived June 16 and departed July 20. Ten Saint Mary's students served as mentors—sharing residence hall rooms and attending classes and excursions with the visitors.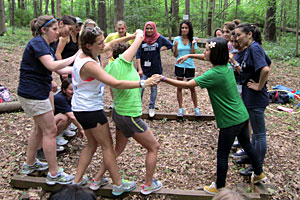 Institute participants work on team building at a retreat
at Camp Mack in Milford, Indiana.
[Heather Grennan Gary photo] The program included a week of educational travel to Chicago; Boston; Seneca Falls, New York; and New York City, where participants visited Ellis Island and the United Nations. It concluded in Washington, D.C., where students attended a conference at the State Department, toured Capitol Hill, and met with women who are influential on a national level.
Called the Study of the U.S. Institute (SUSI) and held at select sites throughout the United States, the grant was funded by the Fulbright-Hays Act. Such institutes provide participants with intensive studies, local community service activities, and opportunities to engage with peers. Saint Mary's program was titled "Educating Tomorrow's Global Women Leaders."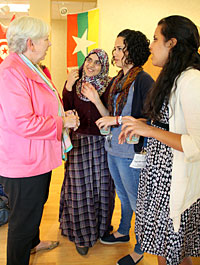 College President Carol Ann Mooney
visits with participants at
an ice cream social.
[Zara Osterman photo] Kaitlyn Rabach, a rising sophomore at Saint Mary's, helped organize the SUSI program and served as a mentor to two visiting students. "This institute has been the best experience of my life so far," says Kaitlyn, who plans to major in political science and women's and gender studies. "To participate in an institute focused solely on [women's leadership] is truly a blessing. Every woman at this institute brings a unique perspective to the table, and being exposed to these different views has been an awesome learning opportunity." Click here to read an essay Kaitlyn wrote during the first week of the institute.
Receiving the $214,834 grant is a high honor for the College, especially because the application process is extremely rigorous and competitive, says Elaine Meyer-Lee, director for the College's Center for Women's Intercultural Leadership (CWIL), which oversaw the program. "When we saw the State Department's call for proposals, we knew Saint Mary's could bring a lot of strengths. CWIL and the broader College have a long-standing record of work in women's leadership and intercultural education, national contacts in these fields, and growing connections in the countries this institute is serving."
At an ice cream social for SUSI participants and members of the Saint Mary's community during the second week of the program, a Tunisian student named Salwa spoke of her desire to help her country move forward after its recent revolution. "This institute came at the right time," says the 22-year-old graduate student, who is studying linguistics. "We need to develop leadership skills for the sake of our country. For the first time we are experiencing freedom. For the first time we can breathe."
SUSI requirements prohibit publishing the last names of visiting students.