Professor Theodore Billy: Master of American Gothic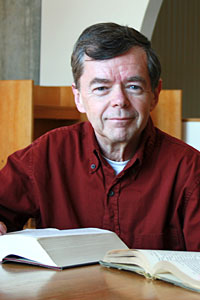 English Professor Theodore Billy has an ideal teaching assistant in his prized raven. The plastic bird serves as a sort of gothic prop when Billy teaches his students about one of his favorite authors, Edgar Allan Poe.
"No matter what course I teach, I want my students to enhance their abilities to read critically, think logically, and write clearly and concisely."
"My favorite course at Saint Mary's has been American Gothic, which draws upon my youthful enthusiasm for tales of terror and allows me to explore the psychological complexity of these works by such authors as Poe, Hawthorne, Henry James, and Shirley Jackson."
Billy earned his doctorate in English at State University of New York at Binghamton, specializing in 19th century American literature with a dissertation about the comic element in Poe's fiction. Billy arrived at Saint Mary's College in 1987 and has been instilling a love of literature in his students ever since.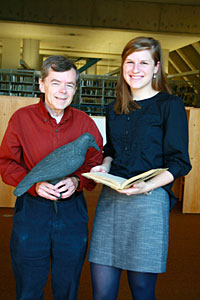 English literature major Emma Brink
worked as Billy's writing apprentice
during the summer of her junior year.
"He is always supportive of his students'
writing," she says. "Like many of my colleagues, I was inspired to choose the teaching profession by having had the good fortune of learning from some wonderful professors in college and graduate school," Billy says. "I was also drawn to the challenge of teaching a book that I myself had struggled to understand upon first reading it in high school or college and making that text come to life and be meaningful for my students."
Billy has taught an impressive thirty courses during his career at Saint Mary's, ranging from Expository Writing to The American Short Story to Film Criticism. He's won numerous awards and honors, including a Lilly grant, the National Endowment for the Humanities fellowship, and a Liberty Fund grant. In 2010, he was presented with the college's Maria Pieta Award that recognizes excellence in teaching. Read Billy's curriculum vitae.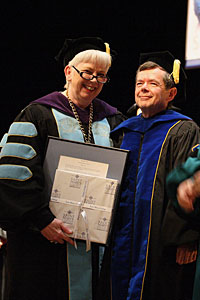 Billy receives the Maria Pieta Award
for teaching from President Carol Ann
Mooney in 2010. But accolades aside, Billy's primary focus has always been on teaching and his students.
"I have been impressed by my students' compassion and creativity, their blend of idealism and a down-to-earth attitude, and their willingness to take on challenges…yes, even if it means reading Moby-Dick. It is very easy to establish a good rapport with Saint Mary's students, and I value the opportunity to remain in touch with them long after they have graduated."
In addition to an appreciation for literary works, Billy hopes his students gain valuable lifelong skills in his classroom. "No matter what course I teach, I want my students to enhance their abilities to read critically, think logically, and write clearly and concisely," Billy says. "Students who can do all three of these things effectively will be on their way to a successful career in whatever profession they pursue and will be on the road to leading a life of significant purpose. Students may not recall all or even most of the books they read in my class ten or twenty years later, but I would hope that they cherish the joy of critical reading and the stimulation of articulating their various points of view."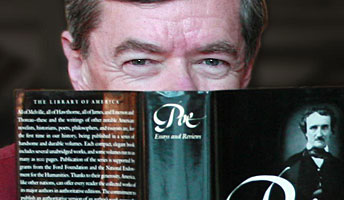 Billy has published numerous times, including his book A Wilderness of Words: Closure and Disclosure in Conrad's Short Fiction, which was nominated by Texas Tech University Press for the Modern Language Association award for the best critical study of 1997. Although his students and his writing keep him busy, Billy finds time to serve both on the Film Studies Program Committee and as the faculty advisor of the English Club at Saint Mary's College.
"I have always believed that the transmission of knowledge is not as important as instilling in students an insatiable intellectual curiosity that encourages them to continue to ask vital questions throughout their lives," Billy says. "Therefore, I attempt to transform my students as individuals by encouraging them to be independent thinkers who never settle for easy solutions to complex problems or issues."