Beyond tradition, an enduring heritage: Madeline Miles and Anabel Castañeda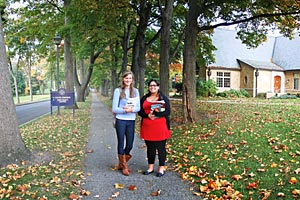 Madeline Miles (left) and Anabel Castañeda
Want to know if Saint Mary's is the right college for you?
Take this simple test: drive or walk down The Avenue, the tree-lined entrance to the College, and see how it affects you.
Chances are, you'll feel something deep—calmness, comfort, inspiration, exhilaration. Or maybe something beyond description.
"I just remember getting a feeling that I belonged here."
Whatever it is, that feeling has encouraged generations of women to choose Saint Mary's. Ask Saint Mary's students, past or present, about what drew them to the College, and more than you'd expect will say The Avenue was a deciding factor.
"The very first time I visited Saint Mary's was in the winter of my senior year of high school," says junior Madeline Miles, an English writing and communication studies major from Dayton, Ohio. "It had just snowed the night before, and I had an early morning tour. We drove down The Avenue, and the entire campus was completely blanketed, untouched and white. It was so calm and beautiful—I just remember getting a feeling that I belonged here. And coming back to The Avenue every fall still gives me that feeling of comfort that I felt during that first visit."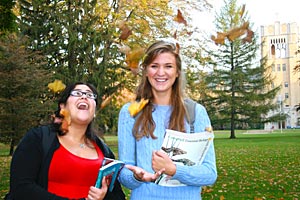 Senior Anabel Castañeda, a political science and communication studies major from Oak Park, Illinois, had a similar experience. "On my first visit to Saint Mary's, I was completely nervous and did not know if I was going to enjoy it," she says. "But when I drove down The Avenue in March of 2008, a sense of calmness came over me, and I knew this was the place that I wanted to spend the next four years of my life."
That calm feeling reinforced Anabel's investigation of Saint Mary's. "I had done extensive research that showed the strength of women's colleges, especially for congresswomen," says Anabel, who plans to pursue a political career herself. "Plus, Saint Mary's reputation is fantastic. I just love Saint Mary's for empowering me and giving me tools to succeed."
For Madeline, it wasn't just The Avenue that gave her the feeling of home. "The classes and professors are fantastic—they really care about your success," she says. "And the friends I've made at Saint Mary's are friends I'll have for the rest of my life.
"I'm so thankful I took that drive down The Avenue that winter," she says. "Now when I walk down The Avenue, I sometimes think of all the women of Saint Mary's who have walked the same road, and how much The Avenue is part of the Saint Mary's tradition. I love this connection with past and present Saint Mary's women. That heritage means so much."