Alumna novelist Adriana Trigiani shares insight, laughs, and passion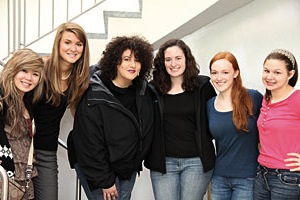 New York Times best-selling novelist Adriana Trigiani,
a 1981 alumna, returned to Saint Mary's in April.
Students had the opportunity to work with her
one-on-one as well as take classes that she led.
"If you're a writer, here's the first rule you should follow: write every day of the rest of your life," alumna Adriana Trigiani told students during a recent campus visit.
Trigiani, best-selling novelist, television writer, playwright, and documentary filmmaker, majored in theatre at Saint Mary's and graduated in 1981. (All four of her sisters are Saint Mary's gradutes, too.) In April, the same month as she released her New York Times best-selling novel The Shoemaker's Wife, Trigiani graciously made time to return to campus to share her knowledge and experiences with students.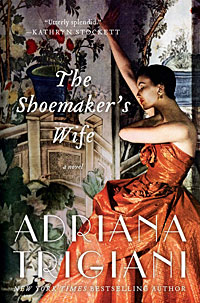 "The Shoemaker's Wife" debuted at
No. 5 and spent at least seven weeks
on the New York Times Best-Seller List.
Trigiani appeared on the Today
show and CBS This Morning, and the
novel was featured in USA Today, and
other national media outlets. And she brought her mentor, Bill Persky, a five-time Emmy award-winning producer, who worked on hundreds of television shows, including The Dick Van Dyke Show, That Girl, and The Cosby Show.
On campus Trigiani and Persky cohosted several writing workshops for students as well as an informal lecture on television writing that was open to the public. The workshops focused on writing for television and gave students a rare one-on-one opportunity to pitch sitcom ideas and receive feedback from two successful television writers. Plus, as comedy writers, Trigiani and Persky had their audiences in stitches with irreverent, off-the-cuff stories about writing, celebrities, and life in general.
They were also intense listeners. Trigiani began one creative writing class by asking each student to share her name, major, and hometown. She then asked follow-up questions, inquiring about career goals and coursework. She listened intently and started her lecture only after each student had introduced herself.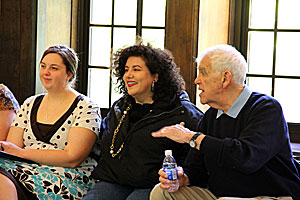 Trigiani and Bill Persky give advice after listening to students
pitch their ideas for sitcoms. "Let go of this 'I'm a loser' stuff," she told students. "Don't judge your life experience—live it! All experiences are opportunities for learning. My mentor, Bill Persky, always told me that you must work your way up."
She used her own story as an example. After graduation Trigiani moved to New York City to become a playwright. In order to support herself, she worked as a temp in an office and as a nanny. Eventually, she was hired as a writer for The Cosby Show.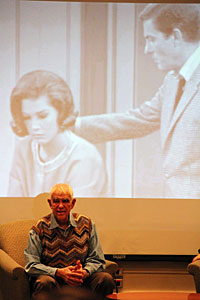 Persky talks about writing for the
"Dick Van Dyke Show" during a
lecture on April 27. Persky, a five-time
Emmy award winner, hired Trigiani
to write for "The Cosby Show." She wrote her first novel, Big Stone Gap, as a screenplay. Two friends read it and suggested she rewrite it as a novel. So each morning Trigiani woke up at 3, worked on the novel for several hours, and then left for work. She did this every day for about a year until the novel was finished.
"I'm not the best writer, but I work harder than ten people combined," she said. "You have to believe in you." Trigiani continued writing into the next year to improve her writing skills. Her efforts ended up becoming Big Cherry Holler, the sequel to Big Stone Gap.
Persky, a television legend, encouraged students to push through with their ideas. "Anybody is creative enough to stop an idea—never think that way," he told students before listening to their sitcom pitches. "True creativity is keeping that idea going." Trigiani and Persky invited the students to share their ideas one by one, suggesting everything from names to possible characters to networks.
Their workshop Writing for Comedy required students to rely on their comedic chops. "The only way to get through bad things is to find something funny," said Persky, advising students to imagine how they would describe a bad experience three weeks after it occurred. "As a comedy writer, you have the obligation to take the pain out of difficult experiences and focus on the humor."
The best characters aspire to things, he added. And that's what creates comedy. "Comedy comes out of aspiring for something, coming up short, and getting back up."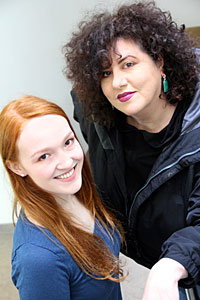 Trigiani and writing student
Michelle Rozman '12. Trigiani and Persky concluded their visit with their public lecture "The Golden Age of Television Writing." They shared clips of shows they have worked on and discussed their careers, how television has changed, and how television will continue to change. They had the audience laughing the entire time.
As always, Trigiani spoke highly of her beloved alma mater. "I had the best education here. I am the biggest fan and supporter of Saint Mary's College."