Small campus, big opportunities: Victoria Flees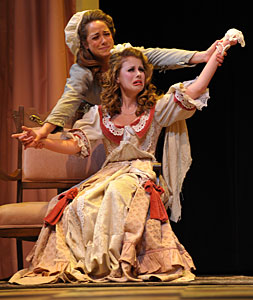 Victoria Flees, front, portrays Angelique in
the college production of The Imaginary Invalid
in 2010. With her is Emily Puscas, a 2011 alumna.Victoria Flees got her first taste of acting as a child. "When I was 8, my whole family was in Oliver," she says. "My sisters and I were poor children. One sister had a solo, and my dad shot a guy onstage. It was very exciting. I remember telling my mom that I loved knowing we had rehearsal the next day."
"I wouldn't have gotten the individual attention from these artists at a bigger school."
That love grows stronger as Victoria, a senior theatre major from Fraser, Michigan, delves deeper and deeper into the world of drama. "It has opened my mind to so many things," she says. "I didn't know I was going to love acting this much."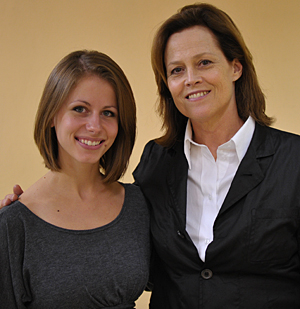 Acclaimed actress Sigourney Weaver visited campus
in 2011 as the Margaret Hill Endowed Visiting Artist.
Victoria was chosen to deliver a monologue for critique
by Weaver and her husband, Jim Simpson, a filmmaker
and stage producer/director. Her four years at Saint Mary's have brought one spectacular opportunity after another, including face time with some of the brightest stars in show business. Victoria was chosen to deliver monologues for visiting artists Glenn Close and Sigourney Weaver, who then critiqued her performances. "I love critique. You listen, work on it, and then do better the next time. And to be critiqued by Glenn Close and Sigourney Weaver? It's still hard to believe I got that chance." Click here for a list of Victoria's performance experiences.
Through the visiting artists program, Victoria also sang for Broadway dancer and singer Donna McKechnie, rehearsed for musical producer Harold "Hal" Prince, and gained insight from actress Lily Tomlin's campus visit. "Our program is small and I'm thankful for that," she says. "I wouldn't have gotten the individual attention from these artists at a bigger school."
These opportunities coupled with Saint Mary's strong theatre program have served Victoria well. She's acted in college and community theatre productions, including several leading roles. And she's earned three prestigious Kennedy Center Irene Ryan Acting Scholarship nominations for acting excellence.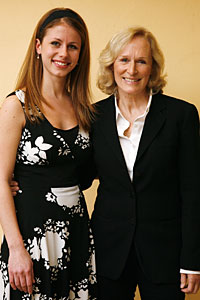 Victoria performed a monologue for
actress Glenn Close in 2010. The supportive atmosphere of the college's theatre program has played a lead role in her success, she says. "We have an environment of camaraderie. You support everyone. People are happy for others when they get parts. That's not something you find everywhere."
Her theatre education hasn't just been acting. Saint Mary's theatre majors must master lighting, set design, directing, production planning, costumes, props, casting, and every other element of theatre. And they develop life skills. "We learn time-management, creative thinking, problem-solving on the fly," she says. "We receive a holistic education, and that's critical because actors need a good education to support our passion and our art. After Saint Mary's, we'll have a great resume to get a job, whether it's in theatre or not."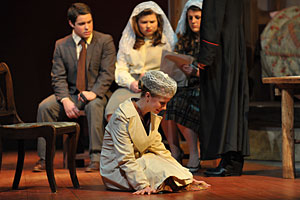 Victoria took the lead role in Confessions of the Chaff
during her sophomore year. After graduation, Victoria hopes to pursue a master's degree through the University/Resident Theatre Association, which would allow her earn her tuition by teaching classes. She auditioned for the program in early February, and is awaiting responses from three schools. She hopes to finalize her plans by April.
"If that doesn't work, I'm going to head to Chicago and begin my acting career," she says. "I'm confident about my future. I got a role last summer in And Then They Came for Me with The Acting Ensemble. I got paid and everything. That helped build my confidence even more that I can do this."


Published February 20, 2012