Senior lands internship in Europe's best hotels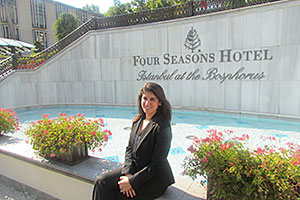 Dilan Yuksel of Charlottesville, Virginia, was a public
relations intern for one of Travel + Leisure magazine's
best hotels in the world. "If one had but a single glance to give the world, one should gaze on Istanbul." — Alphonse de Lamartine, French poet
A summer internship in the most captivating place in the world might seem like a long shot. But even luxury hotels need interns. And Dilan Yuksel needed some public relations experience. And so, with just a single summer left before graduation, the communication studies major set her gaze on Istanbul, Turkey.
Dilan (pronounced di-LAHN) started by applying to the Four Seasons hotel corporation in February. Months of emailing, phone calls, and Skype interviews paid off when the hotel offered her a public relations internship. "It was such an honor to be accepted by one of the most prestigious hotels in the world," she says. "I couldn't wait for June to come."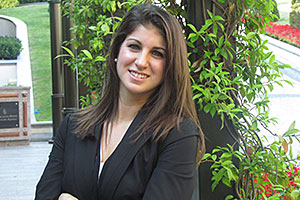 Dilan at a picturesque spot at the Four Seasons. The internship was especially exciting for Dilan because she holds dual citizenship in the United States and Turkey. "I have been spending summers by the Mediterranean since I was 2. But this time was different—I was completely on my own. I found an apartment 15 minutes away from the Four Seasons, and found a roommate through family friends. Living on my own was great. I loved the independence."
Dilan worked for two hotels that are 15 minutes apart—the Four Seasons Istanbul Bosphorus in the modern "new city" and the Four Seasons Istanbul Sultanahmet in the "old city."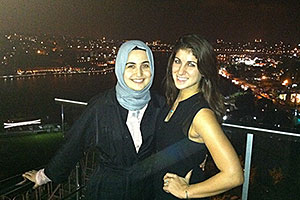 Dilan and her cousin enjoy a night in Istanbul. As an intern she maintained social media pages, such as Facebook, Twitter, and Pinterest. "My supervisors turned to me because of my age and interest in social media. For other public relations campaigns, I helped design luxury New Year's Eve gift baskets, and helped brainstorm ideas for new guest gifts. I was constantly given new tasks that helped me to learn about the industry."
And she developed an appreciation for international collaboration. "It was incredible to gather a variety of cultural perspectives. One general manager is from Italy, the other is from Spain, and the director of food and beverages is from Switzerland. Looking at projects from a worldwide view made us more successful."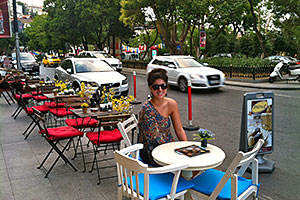 In her free time, Dilan enjoyed the delicious food
and wonderful restaurants in Turkey. That success was internationally recognized in July when Travel + Leisure magazine named both hotels in its World's Best Hotels Awards. The Bosphorus hotel won first place for top large city hotels in Europe. The Sultanahmet hotel won first place for top small city hotels in Europe.
"Getting an award from Travel + Leisure is the crème de la crème for the hotel industry," Dilan says. "These awards were remarkable not just for the company, but for Istanbul as a city. The excitement was contagious! Regardless of department or job, every employee walked with pride. It was thrilling to be a part of the experience, even as an intern."
Dilan came back to Saint Mary's energized and grateful for her strong foundation. "I owe my confidence and skills to my education at Saint Mary's College, especially the communication studies program. My supervisors at the Four Seasons were constantly telling me how impressed they were with my skills and knowledge of communications, and I owe that to professors Terri Russ and Colleen Fitzpatrick.
"It was an honor to represent Saint Mary's in Istanbul, and my internship made me more excited for my next adventures."