$avvy Financial Literacy Program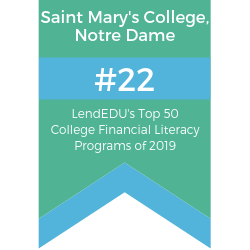 The $avvy Program provides Saint Mary's College students with financial education through a series of free workshops and seminars, led by Saint Mary's College staff, faculty and guest speakers. The goal of the program is to improve students' understanding and practices of personal financial management.  Throughout the year this website will be updated with information on the specific activities being offered through the $avvy Financial Literacy Program.
As a part of Saint Mary's College's dedication to financial literacy, $avvy also provides access to online resources through CashCourse. CashCourse is an online resource that provides a wealth of financial literacy information in the form of printable worksheets, interactive activities and expert financial advice.
Sign up for CashCourse!
Why Participate in $avvy?
The benefits to participating in the $avvy Financial Literacy Program, besides increasing knowledge of personal finance, include:
The opportunity to win an extra $1,000 award from Saint Mary's College as part of your 2019–20 financial aid package1
If you have any questions, please contact us at savvy@saintmarys.edu
Upcoming Events 
Tuesday, September 29, 2020
Topic: Understanding Your Student Account Bill 
Time: 4:00pm
To view this recorded event, please click here 
Topic Description: Understanding your student account and bill can be confusing and overwhelming. This session will be a chance to hear from Student Accounts Manager, Yvonda Kisor, as she explains TouchNet, your bill, charges and financial aid.  
Wednesday, October 21, 2020
Topic: How to Successfully Complete the FAFSA 
Time: 3:00pm
Google Meet Information: 
Topic Description: Completing the FAFSA is an important step in receiveing financial aid. This session will be led by Saint Mary's Assistant Director of Financial Aid, Melissa Love, as she walks through completing the FAFSA and the important deadlines to remember. 
Monday, November 9, 2020
Topic: Banking and Budgeting Basics
Time: 3:00 pm
Google Meet Information: 
Phone Numbers
Topic Description: Hear from Luis Zapata, Vice President for Financial Wellness at 1st Source Bank, on how to choose a bank, set up a savings account, and understand the basics on budgeting.
To view this recorded event, click here 
1 2020-21 $avvy Scholarship
To be eligible to win one of the five $1,000 financial aid awards for the 20-21 year, you must
Be an undergraduate student who is scheduled to graduate in December 2020 or later, and

Participate in at least 50% of the on-campus $avvy events and 50% of the online Cash Course activities throughout the 2019-20 year

Students who meet this criteria will be eligible for the random drawing, which will select five winners