Bequests for the College
Remember Saint Mary's, Perpetuate the Legacy
By leaving a bequest to the College in your will and estate plans, you are perpetuating your own legacy and the legacy of Saint Mary's College.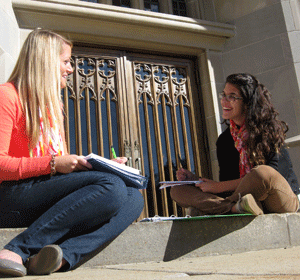 If you already have a will, it can be amended to include Saint Mary's through a codicil. Another way to leave a gift to Saint Mary's is by making the College a beneficiary of a retirement account or a life insurance policy. The beneficiaries of these type of accounts can easily be changed through the service provider.
Those that inform the College of their intent to include Saint Mary's in their estate plans are honored with membership in the Mother Pauline Society. The Mother Pauline Society honors the great builder of our campus and encourages others to remember Saint Mary's.
When making a bequest to Saint Mary's College, please be sure to use our legal name:
Saint Mary's College, Notre Dame.
Our Federal Taxpayer ID is: 35-0868158
The form for notifying the College of your intended, non-binding gift, is available here in doc or in pdf.
Bequests can be set aside for a particular purpose or they can be designated for the Annual fund. Please contact Jo Ann MacKenzie if you would like to discuss leaving a gift to the College.
All information on this website is prepared for the general information of Saint Mary's College supporters. You should consult an attorney or other advisor when considering making a planned gift.