The Mother Pauline Society
"Under her wise presidency, things moved along quietly, but to one looking back even from year to year, it was evident that a transformation in academic matters as in student life was taking place all the while. At the end of her administration a few years ago, there was really a new Saint Mary's"
- the Very Reverand James A. Burns, C.S.C., provincial of the priests of Holy Cross as stated in the 1945 book, This is Mother Pauline, by Sister Mary Francis Jerome O'Laughlin, C.S.C.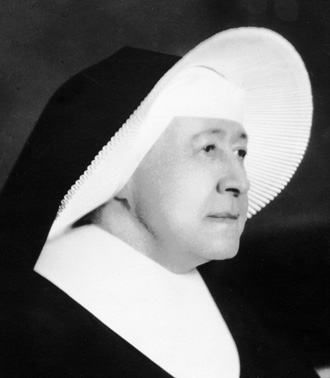 Mother M. Pauline O'Neill, C.S.C., the first president of Saint Mary's College, is revered for her many contributions to the College during her 36-year tenure from 1895 to 1931. Remembered for the construction of Le Mans Hall and its wonderful tower, Mother Pauline also oversaw the building of Holy Cross Hall, the development of beloved Lake Marian and its island, and the opening of the stone entrance which welcomes us down the avenue each time we return home to Saint Mary's. During her presidency, Saint Mary's grew from an academy to a fully accredited liberal arts college known for the excellent education it provided Catholic women.
In recognition of her vision, her dedication and her substantial achievements, the Mother Pauline Society is named for Mother M. Pauline O'Neill, C.S.C.
Members of the Mother Pauline Society have included a gift to Saint Mary's College in their estate or financial plans. They share a commitment to the rich tradition of Saint Mary's and an investment in the College's bright future. The legacy left by Mother Pauline and those who join the Society guarantees the continuted growth and success of the College itself and the students it educates.