Tax Considerations for Giving to Saint Mary's College
Deductions
Saint Mary's College is a 501(c)3 organization as defined under the Internal Revenue Code. This allows Alumnae and friends of the College to take a maximum charitable deduction when making a donation to the College. Deductions are typically limited to 50% of a taxpayer's adjusted gross income, although that amount can be reduced by other personal factors. The College issues documentation for those making gifts.
Capital Gains Tax Reduction
Appreciated assets receive even more preferable tax treatment. By donating an asset that has appreciated in value, the donor avoids paying capital gains tax on the gain, and she receives a tax deduction based on the full value of the asset. This allows the donor to have the greatest financial impact on the College.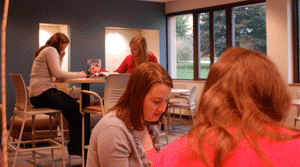 Income Considerations
Typically, donors gain a greater benefit by making a donation in a year when they have greater income. When considering a planned gift, it is important to note that setting up an income producing gift can be more beneficial while you are still working, rather than establishing a trust or annuity once you have retired.
IRA Required Distributions
IRA Rollover provides another opportunity for alumnae & friends to support the College instead of paying higher taxes. The tax code allows those 70 1/2 and older to contribute their mandatory IRA distribution to the College without incurring penalties or paying income taxes. It should be noted that there is no tax deduction for this type of contribution because funds contributed to an IRA are never taxed. Congress has approved the IRA rollover for both 2010 and 2011. By contributing an IRA pay-out to the College, Alumnae can have an immediate impact on the College programs that are important to them. Sample language for arranging an IRA Rollover is located here.
Estate Tax Issues
Finally, contributions to the College can help reduce the amount of assets in an estate. Assets contributed to charity at the time of a death do not count towards estate tax liability. By making a donation to the College in a will, or by naming the College a beneficiary of a life insurance policy or retirement account, the asset will be excluded from the donor's estate and his or her lasting legacy will be carried on at Saint Mary's. Estate taxes are also levied at the state level, and a person knowledgeable about a state's specific laws should be consulted to help plan.
Please remember to consult your attorney and financial planner before making any investment or estate decisions.