Saint Mary's at a Glance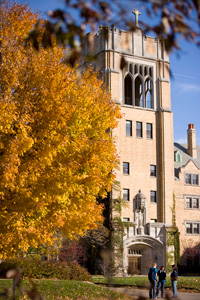 Saint Mary's College ranks 76 among the "Best National Liberal Arts Colleges" for 2014 by U.S. News.
Saint Mary's liberal arts education empowers women to explore, lead, take intellectual risks, and prepare to change the world.
The College
Located in Notre Dame, Indiana, just north of South Bend and across the street from the University of Notre Dame, Saint Mary's College is sponsored by the Sisters of the Holy Cross, who founded the College in 1844.
The campus
Our suburban campus includes 100 acres of trees, gardens, and manicured lawns, historic buildings, and technologically advanced classrooms beside the Saint Joseph River. Across the street, the University of Notre Dame expands the opportunities for Saint Mary's students, who can attend Notre Dame classes and sporting events, and participate in sports, clubs, and organizations at Notre Dame.
The students
There are approximately 1,500 students who come from nearly all 50 states and 17 other countries. Approximately 90 percent of students live on campus and are guaranteed housing all four years.
The education
Saint Mary's is fully accredited through the Higher Learning Commission of the North Central Association. We have six nationally accredited programs and more than 30 majors to help you pursue a meaningful career and make a difference in the world. Saint Mary's is ranked among the 100 Best National Liberal Arts Colleges for 2015 published by U.S. News & World Report.
The faculty
Our faculty consists of top scholars who are recognized for excellence in their fields of study. All of our classes are taught by faculty, not teaching assistants. Students enjoy close working relationships with professors in classes averaging 15 students and a student/faculty ratio of 10:1.
Hands-on learning
Approximately 51 percent of 2014 graduates studied abroad in Australia, Austria, France, India, Ireland, Italy, South Africa, Spain, and other countries. Our focus on hands-on learning takes students into the field for course work and professional internships, available through numerous sources. Our commitment to service is demonstrated by student involvement. Roughly two-thirds of Saint Mary's seniors volunteer annually.
Student life
Students lead more than 60 organizations on campus, including campus publications, fine arts clubs, community service groups, and social and professional organizations. Students are empowered to make key decisions regarding Saint Mary's social, education, spiritual, and service opportunities through the Board of Governance.
Athletics
We have eight NCAA Division III varsity athletic teams and a wide range of club and intramural sports available to Saint Mary's students through both Saint Mary's College and the University of Notre Dame.
Financial aid
More than 90 percent of Saint Mary's students receive some form of financial aid, totaling more than $20 million in institutional grants and scholarships.
Graduates
Fifty percent of Saint Mary's recent alumnae have careers in business and industry, education, and health/medical services. Thirty percent attend graduate or professional school immediately upon graduation. More than 95 percent of seniors report being satisfied with their educational experience at Saint Mary's College.