Boyce Named to All-American Scholar Team
Boyce Named NGCA All-American Scholar
CORAL SPRINGS, Fla. - Saint Mary's golfer Mary Kate Boyce was named to the 2009-10 National Golf Coaches Association All-American Scholar Team.  The criteria for selection to the All-American Scholar Team are a minimum cumulative grade point average of a 3.50 and the student-athlete must also have competed in at least 66% of the college's regularly scheduled competitive rounds during the year.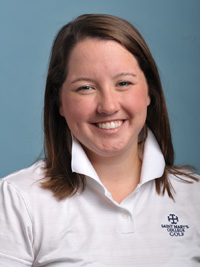 She joins just 70 other NCAA Division III women's golfers to be named as NGCA All-American Scholars.

Boyce (Oak Lawn, Ill./Mother McAuley) is a rising senior business administration major with concentrations in marketing and finance. 
Last year, she finished ninth at the NCAA Division III Golf Championships to help lead her team to a fourth place finish.  An All-MIAA First Team selection in the fall of 2009, she shot a four-day score of 322 for an 80.5 average per round in the Division III championships.  Boyce finished the spring ranked 38th among Division III golfers with an 82.06 adjusted scoring average and was both a Great Lakes All-Region selection and an Honorable Mention All-American.