SMC at MIAA NCAA #3
Belles Finish Third, Hold On to Claim NCAA Bid
NOTRE DAME, Ind. - The #5 Saint Mary's golf team finished in third place in the final MIAA NCAA Qualifying round but held on by eight strokes to claim the conference's automatic qualifying bid for the NCAA Division III Championships in May.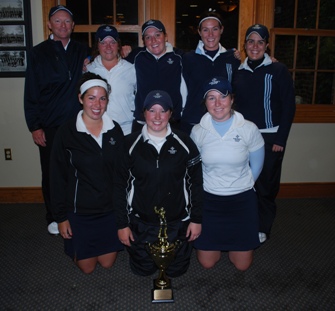 The Belles shot a 348 at the University of Notre Dame's Warren Golf Course for the third place finish.  Olivet finished first at the event with a 328.  The Comets' Lauren Campbell earned medalist honors with the lone sub-80 score of 77.

Natalie Matuszak had the low score of the day for the Belles with an 81 to finish second overall.  Rosie O'Connor had the next best finish for Saint Mary's as she carded an 85 to tie for ninth place.

Mary Kate Boyce and Perri Hamma both finished the day with scores of 91 to round out the scoring for the Belles while tying for 17th place.  Christine Brown was the fifth scoring eligble golfer for the Belles and finished with a 93, tying for 19th on the day.

The Belles finished the three MIAA NCAA Qualifying rounds with the lowest cumulative score to earn the conference's automatic qualifying bid to the NCAA Division III Championships in May.  Saint Mary's shot 992 combined in the three events to edge out Olivet by eight strokes (1000).  The NCAA Championships will be played at the Mission Inn Resort, Howey-in-the-Hills, Florida, from May 11-14.