2010 NCAA Golf Championships - Day One
Matuszak Leads the Field as Belles Sit in Fourth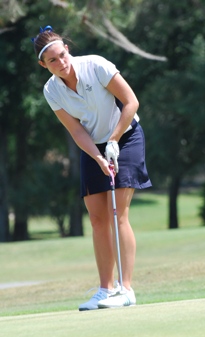 Natalie Matuszak watches her
putt during day one of the
NCAA DIII Championships.HOWEY-IN-THE-HILLS, Fla. - Sophomore Natalie Matuszak is currently tied for the lead while the #8 nationally ranked Saint Mary's golf team sits in fourth place at the NCAA Division III Women's Golf Championships.

As a team, the Belles shot a 336 (+44) in day one at the Division III Championships at El Campeon Golf Course at the Mission Inn Golf and Tennis Resort.  Winners of the last 12 straight DIII titles, the 22-time champion Methodist University is currently in first place after the first of four days with a score of 317 (+25).

Natalie Matuszak shot a stellar three-over 76 on day one to lead the Belles and share the overall lead with Methodist's Paige Caldwell.  The 76 ties the best first round score by a Saint Mary's player with Stefanie Simmerman's 76 during her individual championship title run in 2003.

Mary Kate Boyce also put together a strong first day with a 79 (+6) to hold a share of seventh place in the field of 105 golfers.  The 79 matches the junior's best round at the NCAA Championships as she shot a 79 at day one of the tournament last May.

Christine Brown and Perri Hamma turned in scores of 90 and 91 to help the Belles to one of their best day one finishes at the championships.  Brown's score of 90 puts her in a tie for 59th while Hamma's 91 has her holding a share of 71st.

Rosie O'Connor rounded out the five Belles playing in the event with a 95 (t-93).  

The Belles will tee off of the back nine beginning at 8:00 a.m. tomorrow morning.
| | |
| --- | --- |
| Team Leader Board - Day One | |

Course:Mission Inn Golf and Tennis Resort: Championship Tees     Par 73 - 5901 yards

current
position
team
scoring
rounds
total
score
to par
thru
today
1
1
+25
F
  +25
317
317
T2
+39
F
  +39
331
331
T2
+39
F
  +39
331
331
4
+44
F
  +44
336
336
5
+46
F
  +46
338
338
6
+51
F
  +51
343
343
7
+52
F
  +52
344
344
8
+54
F
  +54
346
346
9
+55
F
  +55
347
347
10
+56
F
  +56
348
348
11
+57
F
  +57
349
349
12
+60
F
  +60
352
352
T13
+61
F
  +61
353
353
T13
+61
F
  +61
353
353
15
+62
F
  +62
354
354
16
+63
F
  +63
355
355
17
+68
F
  +68
360
360
18
+72
F
  +72
364
364
19
+74
F
  +74
366
366
20
+81
F
  +81
373
373