SMC at O'Brien National Invtiational - Day Two
Belles Finish Third at O'Brien National Invitational
Results (pdf)
NOTRE DAME, Ind. - Martyna Mierzwa shot the lowest round of the tournament with a school-record 71 on day two as the #13 Saint Mary's College golf team finished third at the O'Brien National Invitational hosted by the College.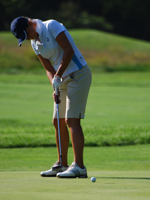 The freshman from Poznan, Poland, not only set the single-round school record for 18 holes, but she also set the school record for a 36-hole golf outing while earning medalist honors at the high-caliber event. The previous Saint Mary's records for an 18 hole outing was 73 (Stefanie Simmerman and Julia Adams in 2004 and 2005) while the previous best 36 hole round by a Belle had been 148 (Stefanie Simmerman in 2004).
Consistency was the name of the game for the Belles on day two to help solidify a third place finish.  Mary Kate Boyce, Natalie Matuszak, and Rosie O'Connor each shot their same scores from Sunday to give the Belles a 311 on the day.  Boyce shot a 79, Matuszak had an 80, and O'Connor carded an 82.  Perri Hamma, meanwhile, shaved a stroke off of her performance from yesterday to turn in an 87 to round out the top five for the Belles.
Taking team championship honors at the tournament was 12-time defending NCAA Division III champion Methodist University.  The Monarchs took the team title with rounds of 303 and 315 for a 618 in the event.  Fifth-ranked Wisconsin - Eau Claire took second place with a 620 (309-311).
With the two-day total of 629, the Belles finished ahead of nationally ranked Gustavus Adolphus (#3), Southwestern University (#4), Otterbein (#6), Allegheny (#7), Illinois Wesleyan (#8), and DePauw (#9). 
The Belles will begin MIAA play this week when they travel to Albion on Thursday for the first of four jamborees of the fall season. 
Medalist - Martyna Mierzwa, Saint Mary's

All-Tournament Team:
Martyna Mierzwa, Saint Mary's
Catherine Wagner, Wis. - Eau Claire
Susan Martin, Methodist
Alana Swain, Methodist
Katie Maurer, Wis. - Eau Claire