SMC at MIAA Championships - Day Two
Boyce Earns MVP Honor as Belles Claim Sixth MIAA Championship
BEDFORD, Mich. - Mary Kate Boyce became the fourth straight Saint Mary's season medalist and MVP as the #7 Belles captured their sixth MIAA golf championship on Saturday.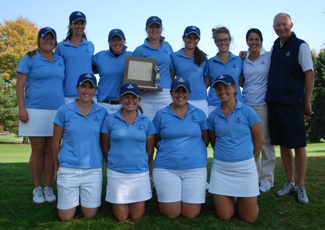 The Belles took the conference championship by 37 strokes in the cumulative standings over the rest of the field.  Saint Mary's fired a 312 on Saturday to clinch the championship from second place Olivet.  Mary Kate Boyce was the tournament medalist after an impressive two-day showing.  Boyce followed up yesterday's 77 with an MIAA 18-hole round record of 72 for the first conference even-par round recorded.  She finished the tournament with 22 pars and five birdies.

Doyle O'Brien was the only other golfer in the field to have two sub-80 rounds as she improved upon yesterday's 79 with a new collegiate career-best 78 to finish second overall.  Improvement was the name of the game for Saint Mary's as all five scoring eligible golfers took strokes off of their Friday scores on Saturday.  Rosie O'Connor shot a 79 to finish the tournament tied for fourth.

Marin Beagley, meanwhile, cut a stroke off of yesterday's score by finishing with an 83 and claiming 12th place.  Paige Pollak was the fifth golfer for Saint Mary's and shot an 85 to finish tied for 20th.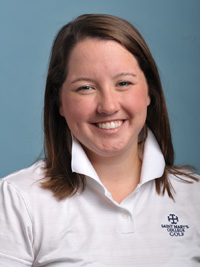 Mary Kate BoyceBoyce, O'Brien, and O'Connor were all named to the All-Tournament team.  That trio and Marin Beagley were all All-MIAA First Team honorees, which is based on the season stroke average by all golfers in the conference.  It is the first time in program history that the Belles have placed four golfers on the All-MIAA First Team.

Boyce, meanwhile, became the seventh Saint Mary's golfer to earn season medalist honors.  A two-time MIAA Golfer of the Week this fall, she finished the season with a 78.3 average while being the medalist of an individual round on two occasions out of five rounds.  Boyce earned a "trifecta" of sorts as she was selected as the MIAA Sportsmanship Award winner as voted on by the conference coaches. 

With the championship, the Belles earned the privilege to host two of the three MIAA NCAA Qualifying rounds in the spring season.  The 2011 portion of the schedule will begin in March for Saint Mary's.