SMC at MIAA NCAA #3
#12 Belles Punch Ticket to NCAA Championships
Results (pdf)
SOUTH BEND, Ind. - The #12 Saint Mary's golf team earned their third consecutive and sixth overall trip to the NCAA Division III Golf Championships in May after an impressive 315 on a windy Saturday.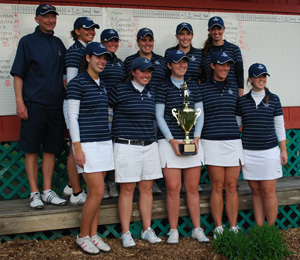 Entering today's third and final round of the MIAA's NCAA automatic qualifier playoff rounds trailing Olivet by just three strokes, the Belles left little doubt of which team would be earning the conference's bid to next month's championships. Saint Mary's fired a 315 on the day to Olivet's 342, giving the Belles a three-round cumulative score of 970 while the Comets finished the three rounds with a 994.

Low scores came across the board for the Belles on Saturday as Saint Mary's used their home course advantage to the fullest at Blackthorn Golf Club. Each of the scoring five golfers for Saint Mary's finished in the top 10 on the day while no golfer, scoring five or individual, for the Belles finished below 30th.

Leading the way were Mary Kate Boyce and Marin Beagley. The pair each shot rounds of 78 on the day to share medalist honors at the event. Boyce birdied her final hole of the day to go along with 10 pars on the day. Beagley, who had the lowest round of her Spring season, had a birdie on the par five 15 and shared a round-best 11 pars with teammate Christine Brown.

Doyle O'Brien, much like classmate Marin Beagley, also turned in her lowest score of the Spring season. The freshman, who finished third overall, had a 79 on the day with birdies on one and 18 along with eight pars. Rosie O'Connor wrapped up the 315 for the Belles with an 80, which was good enough for a share of fourth place. O'Connor birdied the tenth hole and also had 10 pars on the day. Natalie Matuszak, who was the fifth scoring-eligible golfer on the day, turned in an 85 (t-8th) with a birdie on the par five 15th hole.

Christine Brown led the pack of individuals for Saint Mary's with an 82 (6th), which included 11 pars. Paige Pollak (85; t-8th), Cara Kielty (88; 12th), Alexi Bown (89; t-13th), and Jessica Kinnick (94; t-29th) also competed as individuals for the Belles on Saturday.

The Belles will now look to a bigger title to win in their sixth trip to the NCAA Division III Championships. Last Spring, the Belles matched their highest-ever finish at Nationals with a fourth place finish. The NCAA Championships will run from May 10-13 at the Mission Inn and Resort's El Campeon Golf Course in Howey-in-the-Hills, Florida.