2011 NCAA Championships - Day Four
Belles Take Fourth After Final Day of Championships Gets Washed Out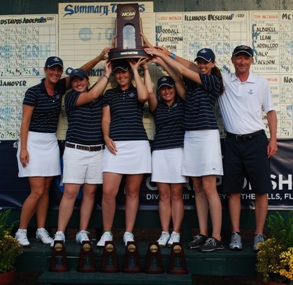 The Saint Mary's Golf Team with their fourth place trophy.HOWEY-IN-THE-HILLS, Fla. - A thunderstorm late in the afternoon washed out the final day of the 2011 NCAA Division III Women's Golf Championships. Since the round was unable to be completed, the eighth-ranked Saint Mary's golf team took home fourth place as they were fourth in the standings through 54 completed holes heading into today's action.

In the team's sixth overall appearance in the NCAA Division III Championships, the Belles matched their highest ever finish of fourth. The 2003 squad as well as last year's 2010 team both finished fourth at the NCAA Championships prior to this season's finish.

It is also the third consecutive season that the Belles finished higher than they were ranked in the championship tournament. In 2009, Saint Mary's took tenth place after being seeded 17th. Last May, the Belles captured fourth place while entering the tournament as the eighth-ranked team. This spring, the Belles came into the week ranked eighth nationally but were the number nine seeded team. With the fourth place finish, the Belles ended the tournament ahead of higher seeded teams DePauw (#1), Wisconsin-Eau Claire (#3), George Fox University (#4), Williams College (#5), Washington University in St. Louis (#6),  and North Central College (#7).

Mary Kate Boyce finished her career finished ninth in the Championships for the second consecutive year with a three-day score of 243 as she shared the honor this year with Wisconsin-Eau Claire's Catherine Wagner.
Course:Mission Inn Golf and Tennis Resort: Championship Tees     Par 73 - 5884 yards

current
position
team
scoring
rounds
total
score
to par
thru
today
1
2
3
1
+90
F
  +37
318
319
329
966
2
+102
F
  +31
322
333
323
978
3
+115
F
  +34
332
333
326
991
4
+116
F
  +44
325
331
336
992
5
+121
F
  +40
330
335
332
997
6
+126
F
  +41
338
331
333
1002
7
+128
F
  +40
340
332
332
1004
T8
+138
F
  +51
331
340
343
1014
T8
+138
F
  +35
344
343
327
1014
T10
+140
F
  +37
346
341
329
1016
T10
+140
F
  +48
345
331
340
1016
12
+146
F
  +50
355
325
342
1022
13
+148
F
  +40
355
337
332
1024
14
+169
F
  +47
356
350
339
1045
15
+172
F
  +58
358
340
350
1048
16
+173
F
  +53
356
348
345
1049
17
+191
F
  +50
370
355
342
1067
18
+207
F
  +62
371
358
354
1083
19
+226
F
  +63
366
381
355
1102