2011 NCAA Championships - Day Three
Belles in Fourth Heading into Final Day
Results (pdf)
HOWEY-IN-THE-HILLS, Fla. - The #8 ranked Saint Mary's golf team is currently in fourth place after the third day of competition at the 2011 NCAA Championships after a 336 on Thursday.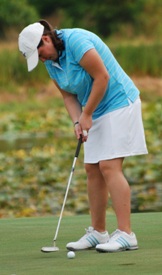 Mary Kate Boyce watches her
putt before it falls for par on
the 15th hole.Defending champion Methodist continues to lead the field with a cumulative score of 966. Gustavus Adolphus gained ground on the Monarchs with the best team score of the day of 323 for a 978. Illinois Wesleyan moved ahead of Saint Mary's for third place by a single stroke as the Titans hold a 991 going into Friday. The Belles, meanwhile, have a 992 going into the final round of play.
Play was suspended beginning at approximately 3:30 due to storms in the area and resumed at approximately 5:00 p.m.

NGCA 2011 Second Team All-American Mary Kate Boyce led the Belles on Thursday with an 80 to move up into a tie for ninth place individually. The senior co-captain shot par on seven of the back nine holes to finish the day with 11 even holes and a birdie for the Belles. Marin Beagley was just one shot behind Boyce with an 81 after an even round on the front nine with two birdies. Currently sitting in a tie for 14th, Beagley's second birdie of the day came on the par three eighth hole as her tee shot was less than a yard from the hole.

Doyle O'Brien had an 86 on Thursday and is tied for 31st going into the final round of play. The freshman had six pars on the back nine for eight total pars on the day. Natalie Matuszak shot an 89 for the Belles' team score of 336. She had a birdie on the par four ninth hole with five pars to hold a share of 44th. Rosie O'Connor added a 91 as the fifth player for the Belles with seven pars to be in a tie for 59th.

Saint Mary's will play the final round with DePauw and Allegheny, who are currently in fifth and sixth place, respectively. The Belles will start off of the front nine beginning at 12:30.
Course:Mission Inn Golf and Tennis Resort: Championship Tees     Par 73 - 5884 yards

current
position
team
scoring
rounds
total
score
to par
thru
today
1
2
3
1
+90
F
  +37
318
319
329
966
2
+102
F
  +31
322
333
323
978
3
+115
F
  +34
332
333
326
991
4
+116
F
  +44
325
331
336
992
5
+121
F
  +40
330
335
332
997
6
+126
F
  +41
338
331
333
1002
7
+128
F
  +40
340
332
332
1004
T8
+138
F
  +51
331
340
343
1014
T8
+138
F
  +35
344
343
327
1014
T10
+140
F
  +37
346
341
329
1016
T10
+140
F
  +48
345
331
340
1016
12
+146
F
  +50
355
325
342
1022
13
+148
F
  +40
355
337
332
1024
14
+169
F
  +47
356
350
339
1045
15
+172
F
  +58
358
340
350
1048
16
+173
F
  +53
356
348
345
1049
17
+191
F
  +50
370
355
342
1067
18
+207
F
  +62
371
358
354
1083
19
+226
F
  +63
366
381
355
1102