2011 NCAA Championships - Day Two
Belles Holding Onto Third at Midpoint of NCAA Championships
Results (pdf)
HOWEY-IN-THE-HILLS, Fla. - The eighth-ranked Saint Mary's golf team continued to hold onto third place after the completion of the second of four rounds at the 2011 NCAA Division III Championships on Wednesday.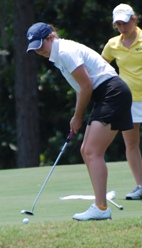 Rosie O'Connor watches
her putt fall for par on the
ninth hole.The Belles shot a 331 and now have a two-day score of 656. The 13-time defending national champions from Methodist put some ground between themselves and the rest of the field on Wednesday with a 318 (637) to continue to lead the pack. Gustavus Adolphus, meanwhile, is in second place by the narrowest of margins over Saint Mary's with a two-day score of 655. Methodist's Paige Caldwell took sole possession of first place for the battle for an individual national championship as she shot a 76 for a 153 two-day score.

Leading the way for the Belles was senior Rosie O'Connor, who cut ten strokes off of yesterday's score for a team-low 80. She had a pair of birdies on the back nine and nine pars in the round and move up to hold a share of 41st place individually.

Mary Kate Boyce and Marin Beagley both added rounds of 83 on Wednesday. Boyce, who is currently tied for tenth place individually, had birdies on both the par four 5th hole and the par five 14th. Beagley had a consistent round from start to finish for the Belles as she did not have worse than a bogey on any hole to go along with eight pars for a share of 19th place.

Doyle O'Brien shot an 85 to complete the team score of 331. The freshman had eight pars and a birdie on the day and is tied for 24th place. Natalie Matuszak was the fifth competing golfer for the Belles and carded an 88. The junior had a birdie with five pars and is currently in a tie for 27th place.

By virtue of being in third place at the midway point of the tournament, the Belles will play the tomorrow's round of the 2011 NCAA Division III Championships with current first and second place teams Methodist and Gustavus Adolphus.  The three teams will tee off on the El Campeon Golf Course at the Mission Inn Resort beginning at 1:20 p.m. Thursday afternoon.
Course:Mission Inn Golf and Tennis Resort: Championship Tees     Par 73 - 5884 yards

current
position
team
scoring
rounds
total
score
to par
thru
today
1
2
1
+53
F
  +27
318
319
637
2
+71
F
  +41
322
333
655
3
+72
F
  +39
325
331
656
T4
+81
F
  +43
330
335
665
T4
+81
F
  +41
332
333
665
6
+85
F
  +39
338
331
669
7
+87
F
  +48
331
340
671
8
+88
F
  +40
340
332
672
9
+92
F
  +39
345
331
676
10
+96
F
  +33
355
325
680
T11
+103
F
  +49
346
341
687
T11
+103
F
  +51
344
343
687
13
+108
F
  +45
355
337
692
14
+114
F
  +48
358
340
698
15
+120
F
  +56
356
348
704
16
+122
F
  +58
356
350
706
17
+141
F
  +63
370
355
725
18
+145
F
  +66
371
358
729
19
+163
F
  +89
366
381
747