SMC at O'Brien National Invitational - Day Two
Belles Finish Sixth at O'Brien as Monarchs Continue to Win
NOTRE DAME, Ind. - The #5 Saint Mary's golf team finished sixth overall at the 2010 O'Brien National Invitational, which was hosted by the College.

The #1 and 13-time defending national champions from Methodist won the tournament with a two-day score of 633 after shooting a 317 on Monday.  #3 Wisconsin-Eau Claire was second (641), followed by #9 Allegheny (643), #4 DePauw (646), and #5 Gustavus Adolphus (652).  The Belles had a 333 on Monday and finished with a 657 at the tournament.

The individual medalist of the tournament was Methodist's Paige Caldwell (76-77--153).  Allegheny's Lauren Hilger, meanwhile, tied the tournament one-day record of 71 with a stellar round on Monday at the Warren Golf Course.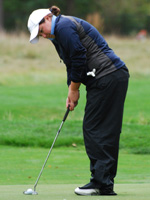 Mary Kate Boyce eyes her
putt on the ninth green.Mary Kate Boyce led the Belles on day two as she posted a four-over 76.  Today's round coupled with yesterday's 80 gave the senior a two-day total of 156, which was good enough for a share of second place overall as well as All-Tournament Team honors.

Paige Pollak cut four strokes off of her score from yesterday to card an 82 Monday to finish tied for 27th.  Marin Beagley had an 86 today, which paired with her 74 from Sunday put her in a tie for 11th place overall at the end of the tournament.

Rosie O'Connor and Doyle O'Brien, meanwhile, shot rounds of 89 and 90 for Saint Mary's today.  O'Brien ended the tournament tied for 45th while O'Connor had a share of 54th.

The Belles will continue to play against some of the elite programs in Division III golf next weekend when they travel to the Fall Preview at the Mission Inn Resort in Howey-in-the-Hills, Florida.  The venue was the site of the 2010 NCAA Division III Championships and will host the event again in 2011.

All-Tournament Team:
Paige Caldwell - Methodist  - Individual Medalist
Mary Kate Boyce - Saint Mary's   
Lizzie Blyth - Allegheny   
Taylor Beaty - DePauw       
Katie Schenfeld - Gustavus Adolphus   
Lauren Hammell - Allegheny   
Andrea Daly - Methodist 

      Fin.   School                   Scores 
         1   Methodist University     316  317    633       +57
         2   Wisconsin-Eau Claire     318  323    641       +65
         3   Allegheny College        336  307    643       +67
         4   DePauw University        317  329    646       +70
         5   Gustavus Adolphus C.     327  325    652       +76
         6   Saint Mary's College     324  333    657       +81
         7   George Fox Univ.         342  320    662       +86
         8   Centre College           328  336    664       +88
         9   Olivet College           347  331    678      +102
        10   Southwestern Univ.       351  344    695      +119