Moore Named Head Golf Coach at Saint Mary's College
Contact:
Sarah Miesle
Sports Information Director
Saint Mary's College
Notre Dame, IN 46556
(574) 284-5290
June 3, 2013 (Notre Dame, Ind.)—The Saint Mary's College Department of Athletics has announced that Kim Moore will serve as the College's head golf coach.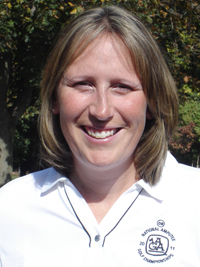 Moore comes to Saint Mary's with a range of coaching and professional experiences. A Class "A" PGA Golf Professional, she has served as an assistant or resident golf professional since 2006. She was the assistant golf professional at Colonial Oaks Golf Club in Fort Wayne and at Elcona Country Club in Elkhart. Since April 2012, Moore has been the resident PGA golf professional and director of instruction at SRT Prosthetics and Orthotics in Indianapolis.
Prior to filling roles as a golf professional, Moore was the men's and women's assistant golf coach at Indiana University Purdue University Fort Wayne (IPFW) from 2004 to 2006. Much of her time was spent organizing and running the women's golf team. She also helped lay the groundwork for the two programs during the first few years of varsity sport status at IPFW.
"I am honored and excited to be leading the Saint Mary's Belles golf team," said Moore. "I want to thank Athletic Director Julie Schroeder-Biek and the rest of the athletic staff for this wonderful opportunity. Saint Mary's is an academically prestigious place to be, and I am truly blessed to be a part of it. With the support of the College and the alumnae I am confident we can continue this program's excellence in the MIAA as well as nationally."
From her collegiate playing days to the present, Moore excels on the course. A four-year member of the University of Indianapolis women's golf program, she was four-time All-Great Lakes Valley Conference honoree. The Greyhounds were three-time GLVC champions during Moore's career, and she was the conference's individual runner-up in 2002. In 2003, the National Golf Coaches Association established the Kim Moore Spirit Award to honor a student who has "demonstrated a positive attitude, determination and perseverance to overcome personal challenges" in each of the NCAA's three divisions. Additionally, Moore has won 10 consecutive National Golf Amputee Association women's national titles.
Moore is a 2003 graduate of the University of Indianapolis where she earned bachelor's degree in biology while also completing a minor in Spanish.
Moore starts her position on June 3, 2013.
About Saint Mary's College: Saint Mary's College, Notre Dame, Ind., is a four-year, Catholic, residential, women's liberal arts college offering five bachelor's degrees and more than 30 major areas of study, such as business, nursing, art, chemistry, and social work. The College's single-gender environment has been proven, in study after study, to foster confidence, ethical leadership, and strong academic success. Saint Mary's College ranks among the top 100 "Best National Liberal Arts Colleges" for 2013 published by U.S. News. Founded in 1844 by the Sisters of the Holy Cross, Saint Mary's College's mission is to educate women and prepare them for postgraduate success whether it's a first job, graduate school, or postgraduate service.