Belles Win Adrian Jamboree
Results (PDF)

ADRIAN, Mich. - The Saint Mary's golf team won the fourth of six 18-hole conference rounds with a team score of 345 at the Lenawee Country Club on Saturday.

The Belles' 345 was three strokes better than second place Calvin and five strokes better than third place Hope. Olivet's Theresa Damico was the medalist of the round with an 77 on a cold and cloudy October afternoon.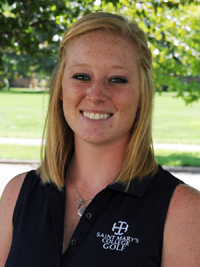 Amanda Graham led the way for the Belles with an 85 to finish fifth overall. Justine Bresnahan was just one stroke behind with an 86 to tie for sixth individually. Claire Boyle and Janice Heffernan both turned in rounds of 87 (t-8th) to wrap up the team score for Saint Mary's. Alexi Bown was the fifth scoring-eligible golfer for the Belles and shot a 91 to take a share of 13th place.

Anna-Marie Gainey played as an individual and shot a 95 (t-22nd) on the day.

The Belles will now prepare for their MIAA end of season weekend jamboree, which will consist of two 18-hole rounds played at Bedford Valley in Battle Creek, Michigan.