Golf Finishes MIAA Season in Third, Belles Earn Honors
BATTLE CREEK, Mich. - The Saint Mary's golf team shot a 346 to finish in third place in the final conference standings at the conclusion of Saturday's round.
Hope won each of the six MIAA rounds this fall on their way to the conference title. The Flying Dutch capped off their streak of wins with a 315. Olivet ended the season in second with a second place finish on Saturday after turning in a team score of 338. Hope's Megan Klintworth was the medalist of the round after shooting a 74, which also propelled the freshman to the MIAA Most Valuable Golfer and Season Medalist honor.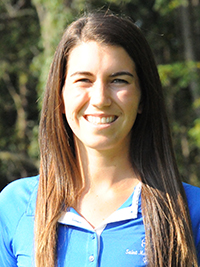 Janice Heffernan earned All-MIAA
First Team honors for the second
straight year.Janice Heffernan continued to lead the Belles as she shot a 79 on Saturday to tie for second place individually in the round. Her 79 was also more than good enough to secure a spot on the All-MIAA First Team for the second year in-a-row as the senior was among the top six golfers in the league based on her scores this season.
Courtney Carlson shot an 86 for the Belles on Saturday to tie for the twelfth-best score in the round. Ali Mahoney carded an 88 and ended the conference season with one of the twelve-lowest season scores for a spot on the All-MIAA Second Team for the second consecutive season. Katie Zielinski shot a 93 on Saturday to wrap up the Belles' team score of 346. Kaitlyn Cartone was the fifth scoring-eligible golfer for Saint Mary's and shot a 95.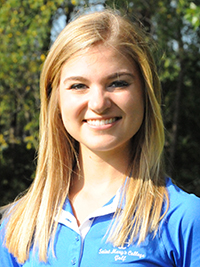 Ali Mahoney earned All-MIAA
Second Team recoginition for the
second consecutive season.Rachel Kim competed as an individual and shot an 86 to tie with Carlson and another player for twelfth overall.
The Belles return to play next spring as they will kick off the season on their annual spring break trip in March.