Belles Finish Fourth at First MIAA Qualifying Round
MARSHALL, Mich. - The Saint Mary's golf team shot a 365 and finished fourth at the first of three rounds which will determine the conference's recipient of the automatic bid to the NCAA Championships in May.
Olivet won the event on their home course with a 323. Hope was second with a 325. Trine was third with a 343. Hope's Britni Gielow was the round medalist with a score of 76 at the Medalist Golf Club.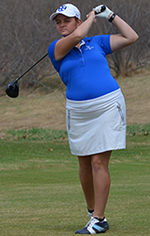 Courtney Carlson led the
Belles on Tuesday. (photo
courtesy of Geoff Henson,
Olivet SID)Courtney Carlson led the way for Saint Mary's with an 81 to finish sixth overall. She had a birdie, eight pars, and tied for third overall in par four scoring in the round. Kaitlyn Cartone turned in a score of 91 to finish 17th overall. She had six pars and tied for 13th in par three scoring at the conclusion of play.
Katie Zielinski carded a 94 to finish with a share of 18th place. She tallied four pars and a birdie. Kelsey Conkright and Lydia Lorenc both shot rounds of 99 to round out the Belles' efforts and tie for 21st. Conkright was tied for sixth in par three scoring while Lorenc had four pars for the Belles.
The Belles return to play on Monday, April 20 when they travel to the Ravines Golf Club in Saugatuck, Michigan for the second of the three MIAA automatic qualifying rounds.