Belles Take Fourth at Opening MIAA Jamboree
SOUTH BEND, Ind. - The Saint Mary's golf team shot a 338 and finished fourth at the first MIAA Jamboree of the season, which the Belles hosted at Blackthorn Golf Club.
Hope took the early lead in the conference standings with a 330. Olivet was second with a team score of 335, and Trine finished third with a 337. Trine's Amanda McPherron was the individual medalist of the event with a 78.
Janice Heffernan had the Belles' best score of the day with an 80 to tie for third place individually. The senior was tied for the best par four scoring after going three-over par on such holes. She also had a team-best nine pars, which included an up and down on the par three third hole.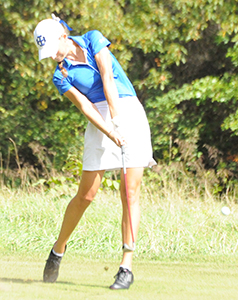 Kaitlyn Cartone shot an 84 and tied for
seventh place on Wednesday.Kaitlyn Cartone finished the round with an 84 for a share of seventh place overall. She was one under on par three holes to lead all players and added seven pars on the day. Ali Mahoney and Courtney Carlson both turned in scores of 87 (t-14th) to wrap up the Belles' team score. Each of the two players had a birdie in their rounds of play.
Katie Zielinski was the Belles' fifth scoring-eligible golfer at the event and shot a 93 (t-33rd).
Kelsey Conkright, Lydia Lorenc, and Rachel Kim all participated in the round as individuals. Conkright shot a 90 (t-23rd), Lorenc carded a 92 (t-29th), and Kim turned in a 94 (t-37th).
The second of six MIAA rounds of golf takes place on Saturday, September 27 when the Belles travel to Alma's home course of Pine River Country Club for a 1:00 p.m. shotgun start.