Belles Finish Fourth at Ravines Golf Club
SAUGATUCK, Mich. - The Saint Mary's golf team shot a 353 to finish fourth at the MIAA Jamboree hosted by Hope at the Ravines Golf Club on Tuesday.
Hope won their third consecutive conference round with a team score of 319. Olivet was second with a 341, and Trine finished just two strokes ahead of the Belles with a 351.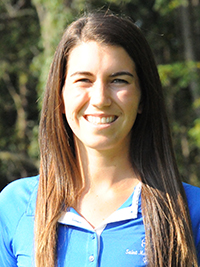 Janice Heffernan was the medalist
at the round with a 78.Janice Heffernan was the medalist of the round after turning in a six-over 78. She was tied for the lead among all players in the field in par five scoring while also turning in 11 pars.
Ali Mahoney shot a 90 to finish tied for 14th overall and was one-over on par five holes on the day. Courtney Carlson was a stroke behind with a 91 to finish tied for 16th while ending the round two-over on par three holes.
Kelsey Conkright wrapped up the team score with a 94 to finish 26th overall while going one-over on par three holes. Kaitlyn Cartone was the team's fifth scoring-eligible golfer and shot a 99 for a share of 37th place.
Katie Zielinski competed as an individual at the event and shot a 90 to finish in a tie for 14th place overall.
The Belles, who are now in third place in league standings, compete in the fourth conference round of the fall on Saturday, October 4 starting at 1:00 p.m. at Lenawee Country Club in Adrian, Michigan.