Belles in Fourteenth Place at WashU Spring Invite
MADISON, Ill. - The Saint Mary's golf team shot a 363 and is in fourteenth place after day one of the Washington University in St. Louis Spring Invitational.
NAIA No. 6 William Woods leads the field after a tournament record score of 297. The host Bears are second with a 307, and Carthage is third with a 311.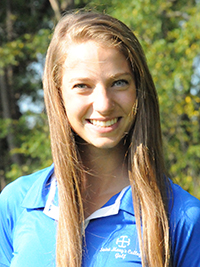 Kaitlyn Cartone led the Belles on
day one.Kaitlyn Cartone led the Belles with an 85 (t-43rd) on day one while posting six pars. Katie Zielinski and Kelsey Conkright each shot rounds of 91 (t-65th). Zielinski had birdies on par four No. 2 and par five No. 15 to go along with three pars. Conkright notched three pars on the day. Lydia Lorenc rounded out the team score with a 96 (t-79th) while tallying three pars.
Courtney Carlson was the Belles' fifth scoring-eligible golfer and shot a 106 (t-83rd).
The two-day tournament concludes on Sunday after a 9:00 a.m. CDT shotgun start at Gateway National Golf Links.