Belles Finish Thirteenth at WashU Spring Invite
MADISON, Ill. - The Saint Mary's golf team moved up a spot to claim thirteenth place at the Washington University in St. Louis Spring Invitational on Sunday.
The Belles shot a 368 on Sunday to finish with a final team score of 731. NAIA powerhouse William Woods won the tournament after a 308 Sunday to finish with a 605. Wittenberg and Washington University in St. Louis tied for second place with matching 630s for the weekend.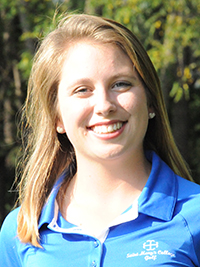 Katie Zielinski had the team's low
round on Sunday.Katie Zielinski led the way for Saint Mary's on Sunday with an 86 (177 two-day score, t-56th). She had a birdie on par five No. 3 to go along with four pars. Kaitlyn Cartone was the team's highest overall finisher on the weekend. She turned in a 90 on Sunday with a team-best seven pars while ending the tournament with a two-day score of 175 (t-51st).
Kelsey Conkright and Lydia Lorenc shot matching rounds of 96 to round out the team's 368. Conkright (187, t-72nd) had four pars on the afternoon while Lorenc (192, t-77th) had six pars. Courtney Carlson was the team's fifth player in the lineup and shot a 98 (204, t83rd) with four pars.
The Belles are away from competition until the Trine Spring Classic on Friday and Saturday, April 10 and 11 at Zollner Golf Course in Angola, Indiana.