Coaching Staff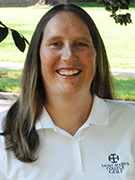 Head Coach - Kim Moore
Kim Moore enters her third season as the head golf coach at Saint Mary's College at the start of the 2015-16 academic year.
In her first season, Moore guided the Belles to second place finishes in the MIAA in both the fall season and the spring automatic qualifying tournament. At the conclusion of the fall season in 2013, four members of the team were honored with All-MIAA distinctions - two First Team All-MIAA, one Second Team All-MIAA, and the 2013 Sportsmanship Award recipient.
During the 2014-15 academic year, the Belles claimed third place in the MIAA while finishing no lower than fourth in any conference round. Moore helped guide one player to First Team All-MIAA honors while another claimed Second Team All-MIAA recognition. Moreover, three members of the team were WGCA All-American Scholars - the most in any one year for the program.
Moore came to Saint Mary's with a range of coaching and professional experiences. A Class "A" PGA Golf Professional, she served as an assistant or resident golf professional from 2006 through 2013. She was the assistant golf professional at Colonial Oaks Golf Club in Fort Wayne and at Elcona Country Club in Elkhart. From April 2012 until her appointment at Saint Mary's in the summer of 2013, Moore was the resident PGA golf professional and director of instruction at SRT Prosthetics and Orthotics in Indianapolis.
Prior to filling roles as a golf professional, Moore was the men's and women's assistant golf coach at Indiana University Purdue University Fort Wayne (IPFW) from 2004 to 2006. Much of her time was spent organizing and running the women's golf team. She also helped lay the groundwork for the two programs during the first few years of varsity sport status at IPFW.
From her collegiate playing days to the present, Moore excels on the course. A four-year member of the University of Indianapolis women's golf program, she was four-time All-Great Lakes Valley Conference honoree. The Greyhounds were three-time GLVC champions during Moore's career, and she was the conference's individual runner-up in 2002. In 2003, the National Golf Coaches Association established the Kim Moore Spirit Award to honor a student who has "demonstrated a positive attitude, determination and perseverance to overcome personal challenges" in each of the NCAA's three divisions. Additionally, Moore has won 10 consecutive National Golf Amputee Association women's national titles.
Moore is a 2003 graduate of the University of Indianapolis where she earned bachelor's degree in biology while also completing a minor in Spanish.
Assistant Coach - Kasi Hornback
Kasi Hornback returns to the Saint Mary's College golf staff for her second year as an assistant coach during the 2015-16 academic year.
Hornback is a PGA Professional who has spent the last 18 years as an assistant, head, and teaching professional across northern Indiana. She was an assistant golf professional at the South Bend Country Club and head golf professional at Juday Creek Golf Course prior to serving the role of head golf professional at the South Bend Country Club.
She was a teaching professional for seven years at Nick's Golf Center in Elkhart and later became the women's coordinator and teaching professional at Sycamore Hills Golf Club in Fort Wayne. Hornback returned to her position of teaching professional at Nick's Golf Center and has been in that role for the last two years.
Hornback became the first female to be chosen to serve as a PGA Indiana Section Board member and recently launched PGA Outreach Programs for the Boys and Girls Clubs throughout the state.
Outside of golf, she has competed in the Boston Marathon and is a two-time Ironman finisher.