Hacking for a Purpose
By Susan Kratzer '18
As the use of data in a wide range of fields becomes more and more common so have hackathon competitions. According to Hackathons Anonymous, "hackathons provide a venue for self-expression and creativity through technology."
The Master of Science in Data Science Program at Saint Mary's hosted their first ever hackathon in March. Twenty-five teams of college students and recent graduates from around the midwest competed in teams of up to four or as individuals. They had just under 24 hours to analyze a data set provided by Press Ganey with the goal of developing a predictive model.
Participates competed for cash prizes courtesy of the Lilly Endowment. First place winners went home with $2,000, second place won $1,000 and third place $500.
Local tech companies also attended the opening ceremony of the hackathon to share employment and internship information with the students. The companies included Aunalytics & Data Realty, the City of South Bend, Dresscode Tech, enFocus, Harmony Healthcare IT, Xanatek, and Press Ganey, who supplied the data set for the competition.
Program Director of the Data Science Program and Associate Professor Kristin Kuter helped coordinate the event with Chris Wedrychowicz, assistant professor of the math and computer science. She was inspired to host the event by a graduate of the data science program. Kuter wanted to give students at Saint Mary's and neighboring colleges the chance to work with a real-world data set, while showing them what the data science program of Saint Mary's has to offer.
With a Master of Science in Data Science, graduates find careers as a data engineers, business analysts, data analysts, or can even pair the degree with one of the social sciences such as sociology or political science.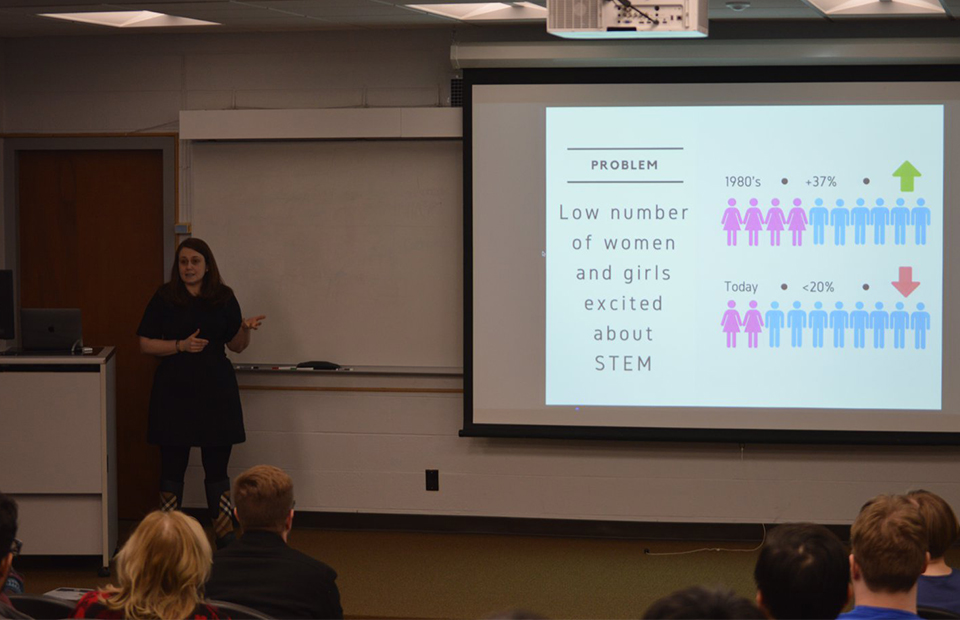 A Saint Mary's student who participated in the hackathon, Jennifer Schnur '18, thinks it is significant that the College hosted the event. Data science is a male-dominated field, and the amount of women in the industry has been on the decline in recent years.
"I think Saint Mary's holding the competition was a sign that women not only are welcome to participate in these events, but could be leaders in the field that help push data science forward."