12 Days of Christmas - More than a Holiday Carol
Each year, the Office for Civic and Social Engagement (OCSE) along with the entire Saint Mary's College campus takes part in the 12 Days of Christmas. A bit different than its musical counterpart, the annual program includes opportunities for students, staff, and faculty to take part in service, social gatherings, and faith-based activities during the first twelve days of December.
12 Days of Christmas extends beyond the Saint Mary's community. Different groups on campus help collect food, clothing, gifts, and funds to help area families in need during the holiday season. This year, the College is sponsoring over 40 adults and 70 children through the events of the 12 Days of Christmas.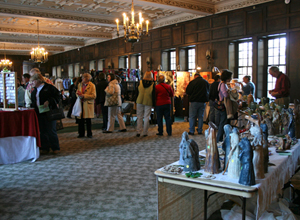 Some of the vendors at the 12 Days of Christmas
Craft Show were set up in Stapleton Lounge.Different activities took place each of the 12 Days of Christmas. Study breaks for students, tree and ornament decorating throughout the College campus, and holiday greeting creating were just some of the programs and activities offered throughout the nearly two-week span.
One of the biggest activities and most inclusive of the Saint Mary's and South Bend communities is the annual craft show, which took place on December 10 in the Reignbeaux and Stapleton Lounges in Le Mans Hall. Area vendors purchase table space, and all of the funds raised through those rentals goes straight to the 12 Days of Christmas and OCSE's assistance of local families. A wide array of crafts featured at the show included photography, handmade ceramics, scarves and mittens, jewelry, and several types of Christmas ornaments.
"Helping with the 12 Days of Christmas and the craft show at the OCSE are wonderful opportunities to make a difference in people's lives," said Liz Litke '13. "The activities really allow the students and faculty to give back to the community in various ways and to help those who truly need it. Giving is really what the Christmas season is all about and allows us to see that together, we can make a difference."