In Service to Others: Outstanding Student Volunteers Honored
The Office for Civic and Social Engagement (OCSE) will host its annual service banquet this week where it will honor six exemplary student volunteers with awards. Five of the awards are named for Sisters of the Holy Cross. The Sisters founded Saint Mary's College in 1844 and the awards are a tribute to the founders' mission—to help where help is needed. The sixth award is named for an alumna, Patricia Arch Green '61, who lived a life dedicated to serving others.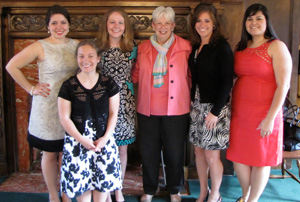 Saint Mary's College President Dr. Carol Ann Mooney,
center, poses for a photo with the 2011 OCSE service
award winners. From left to right are Carla Leal '13,
Anne Maguire '11, Claire Yancy '11 and Karen Borja '11.
In the front is Aileen Hurd '12. "These students demonstrate the spirit of service that is prevalent at Saint Mary's. Whether the students work with children in South Bend's poorest schools or the sick in foreign lands, these students are making a very real and immediate difference in someone's life. They are the hands and feet of Christ," said Carrie Call, director of OCSE.
Service is a way of life at Saint Mary's College. According to Call, 80% of Saint Mary's students participate in service by the time they graduate (the national average is 55%). This profound participation has earned the College national recognition. The Carnegie Foundation for the Advancement of Teaching lists Saint Mary's College among the U.S. colleges and universities selected for its 2010 Community Engagement Classification. Yet the hours of service that the students provide amounts to more than just a number; it is about changing the lives of others.
The Sister Kathleen Anne Nelligan, CSC Award for Spiritual Service is awarded to Anne Maguire '11, a nursing major from Indianapolis. During the summer of 2010, Anne had the opportunity to travel to Uganda to serve with the Sisters of the Holy Cross at their health clinic. She says the experience had a profound effect on her life and deepened her faith and sense of purpose. "No matter what kind of service I am doing-whether I am leading the Rosary, raising money for the Sisters of the Holy Cross in Uganda, or raising money for organizations that support women-Christ is with me, pushing me forward to serve His people. Ultimately, service to me is my way of fulfilling the vocation that God has blessed me with," Anne said.
The Sister Olivia Marie Hutcheson, CSC Award for Service in the Health Field is awarded to Christina Losasso '11, a nursing major from Woodbury, Minnesota. Among her volunteer efforts is her involvement with the Friends of the Orphans organization, which provides permanent homes for orphaned, abandoned, and disadvantaged children in Latin America and the Caribbean. Christina has served with the medical missionary team working with children at the Holy Family Surgery Center in Honduras, traveling there in 2009, 2010, and 2011. She has also led the Saint Mary's chapter of Friends of the Orphans, serving as club president and spearheading efforts to raise money for supplies as well as awareness about the program. "Service means so much more to me than simply sharing my time and talents with those in need. It has been about making it a part of my life for the rest of my life," Christina said. "Finding a perfect place to serve, such as Honduras, has made me wonder why it took me so long to find it, but I did, and now I can no longer imagine my life without it."
The Sister Maria Concepta McDermott, CSC Award for Service in Education is awarded to Aileen Hurd '12, a social work major from Woodstock, Connecticut. Aileen is a College Academy of Tutoring (CAT) Scholar, a scholarship initiative that requires recipients to volunteer a minimum of 300 hours in the South Bend community. She has given over 700 hours to children in the area. As part of the CAT program, Aileen was placed in a LifeSkills classroom at Warren Primary Center in South Bend for 10 hours a week in classroom with developmentally disabled children, most of whom were non-verbal. "For me, service is the opportunity to seek the good in everything, to share in someone else's story, to find new heroes and to witness just one more miracle. Every time we put effort into something - our time, our voices, our ideas, our hearts - it is because we believe in it. And it is exactly when we are most tired and most doubtful that we must commit ourselves even further, because it is then that we are finally able to grow a little more," Aileen said.
The Sister Christine Healy, CSC Award for Service with Women is awarded to Claire Yancy '11, a communication studies major from Holland, Michigan. Claire's compassion is demonstrated most prominently in her work with the Center for the Homeless in South Bend. Claire worked with another student to address the needs of women at the Center and created a program called Our Hour. This program, which was nationally recognized by the National Association for Education in Communication and Media, focused on helping women living at the Center find their voice and increase their self-esteem and self-worth. This semester Claire will welcome some of those guests from the Center to the College to share their stories as part of an event about homelessness awareness.
The Sister Olivette Whalen, CSC Award for General Service is awarded to Karen Borja '11, a political science major from Coachella, California. Karen has been active in a wide variety of activities on and off campus including environmental awareness, sexual-orientation education and advocacy, community gardens, and serving in the CAT program as both a tutor and a teacher's assistant. Her dedication to issues of social justice has grown and this year she has been engaged with the student anti-bias coalition. In her advocacy work with the Straight and Gay Alliance (SAGA) she organized and is leading events during Pride Week and has worked diligently to create an open atmosphere that respects all persons. She has also earned her Certificate in Intercultural Leadership and has used her community-organizing skills in a variety of ways to benefit Saint Mary's community.
The Patricia Arch Green Award is awarded to Carla Leal '13, a psychology major from Brownsville, Texas. She is a CAT Scholar who has already given over 630 hours to the South Bend community. In recognition for her dedication, Carla will serve as the CAT Student Director next year. "The spirit of Saint Mary's is felt at every event I have been a part of. We, as students, create an fun and joyful atmosphere that is noticed wherever we go," Leal said.
This week's banquet will also honor CAT Scholars who are graduating from the two-year program. They are Alicia Grumley '13, Joy Viceroy '13 and Carla Leal '13.
- Molly Gahagan '11