Saint Mary's Students Start Classes at one of the Nation's Top 100 Liberal Arts Colleges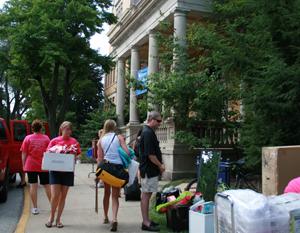 The Class of 2014 quickly settled into their residence halls and classes this week at one of the top 100 "Best National Liberal Arts Colleges," according to the U.S.News & World Report 2011 College Guide. Saint Mary's College ranks 93 out of the 250 schools on the list, which will be published in the September issue of U.S.News & World Report.

For its rankings, U.S.News groups schools based on categories created by the Carnegie Foundation for the Advancement of Teaching. The U.S.News & World Report College Guide is a tool for students and parents considering higher education opportunities.

Saint Mary's College President Carol Ann Mooney set a goal early in her presidency, which began in June 2004, to move Saint Mary's into the national liberal arts rankings. A national standing for a fourth consecutive year indicates Saint Mary's is on course to meet a key goal in the College's Strategic Plan, which is to provide "Educational Excellence Equal to that of the Best Colleges in the Country."

"We know that national rankings are important to our incoming students and their families. I am very pleased that we are ranked in the top 100. Students graduate from Saint Mary's with an education that challenges their minds, awakens their imaginations, and instills in them the desire to leave the world a better place," Mooney said.

Among the many factors weighed in determining the U.S.News rankings, the key measures of quality are: peer assessment, graduation and retention rates, faculty resources, student selectivity, financial resources, alumni giving, and, for National Universities and National Liberal Art Colleges, "graduation rate performance" and high school counselor ratings of colleges.

In addition to being among top 100 "Best National Liberal Arts Colleges," Saint Mary's College also made the top 100 list for "Best Colleges: Most students studying abroad." This U.S.News list is not limited to liberal arts schools. Saint Mary's came in at 99 with 42% of the College's 2009 graduates participating in international study abroad programs.