Hot off the Presses: Bellezine Magazine
Eilis Wasserman '12 has a lot to show for her work spent on Bellezine, the Saint Mary's College student-run magazine, published twice a year. She and co-editor and fellow communication studies major Brittany VanSnepson '12 are about to put out the spring issue.
Wasserman, who is also working on minors in English writing and American history, became involved with the magazine in 2008. She has spent three years on staff and two semesters as co-editor. She has loved every minute of it.
"I was interested in learning about design and how to layout a magazine," Wasserman said. "I like being creative and Bellezine looked like an intriguing organization where I could express my own ideas and interests."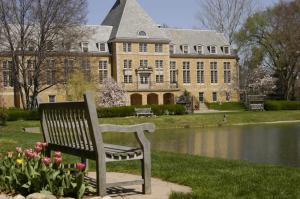 With the arrival of spring, the final issue of Bellezine
can be found around campus.Bellezine was started in 2002 by alumnae Anne DeCleene '03, Sarah Nestor '03, and Katherine Rand '03. According to the editor's letter in the first Bellezine published, the magazine was created in order to give students "a voice of their own- a canvas to express their thoughts, ideas, and knowledge".
Bellezine is filled with articles that reflect the interests and adventures of Saint Mary's College students. Students can be involved in the writing, editing, and design process of the magazine. Everything from profile pieces, personal essays, how-to articles, political essays, recipes, and more are included in each issue. Wasserman and VanSnepson decided that the spring issue's theme would be titled, Real People. Real Relationships.
"The theme of the magazine changes each semester," Wasserman explained. "We try to have a broad theme that allows us to have a variety of articles showcased. The fall issue focused on women's empowerment. This spring's issue is centered on relationships. The theme expresses the importance of all relationships, ranging from a personal to those on a global level. We hope to showcase the importance of relationships within the Saint Mary's community."
Currently, about a dozen students are involved with the spring issue. The magazine welcomes any and all students who are interested in any aspect of magazine publishing. No experience is necessary and all majors are welcome.
"It is a creative and fun publication. We welcome all ideas. Students can gain writing, editing and design experience and have the freedom to write articles that interest them," she said. Students may submit articles, ideas, photographs, etc. to the magazine's email address at bellzine@saintmarys.edu.
The magazine is free and is distributed throughout the residence halls as well as in the Cushwa-Leighton Library and the Student Center. A limited amount of copies are also issued to different locations at the University of Notre Dame and Holy Cross College. Students can expect the spring issue to be delivered in early May.
- Krystina Harcourt '11