Communication Studies
Saint Mary's and Homeless Center launch transitional program for residents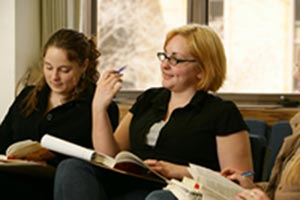 This semester Saint Mary's students are teaching communication skill classes to residents at the Center for the Homeless in South Bend. With unemployment still at a historic high, competition in the job market is fierce. The students' goal is to enrich the programs the Center already offers, while giving the residents the communication skills they need to be successful in life—with family, school, work, and day to day affairs.
The sections offered include: general public speaking, public speaking for teens, communication with emphasis on gender dynamics for single moms, and professional preparation communication.
This is the first year that the Saint Mary's Department of Communication Studies, Dance, and Theatre and the Center for the Homeless will be teaming up to offer this program to guests. "My goal as a teacher is to help my students understand how what we do in the classroom extends to the outside world. With this class, students will have the opportunity to put theory into practice through teaching communication studies to residents of the South Bend Center for the Homeless," says Terri L. Russ, professor of communication studies.
Students are also excited about this unique opportunity. Megan Aimola '10 says, "I'm really looking forward to teaching teenagers at the Center for the Homeless because I think it's a great opportunity to share the lessons I've already learned. It will be great to see these teens eager to learn public communication skills."
—Caroline Baumgartner '11